The bug itself is the same one as the next post below.
Does everything else work fine for you? See if you can run the in-game Benchmark (upper right gear button → select "Options" → "Ranked Benchmark Test") or play the main game without issue.
Additionally, you can try installing the No Embers mod (either subscribe to it on the website, or in-game gear button → "Mods" → search for "no embers"), and see if that changes anything.
---
The basic reason you are seeing this, is because you are using a 16:10 monitor (1920x1200 resolution).
The devs of AoE2DE have only seriously accounted for how the game works in the aspect ratio range from 16:9 to 21:9. Its menu backgrounds are generally designed for this: their main "meaningful" content is concentrated in the 16:9 center, but have borders that extend into the 21:9 space.
Another quirk of its programming is that it always has a layer of "in-game" graphics running, even when you have only just launched it. So when the screen is not covered by a menu background image, you can see the in-game graphics hiding "under" its cover poking through.
It's normal to see the game looking like this after having started a game (which puts fog on the "in-game" layer):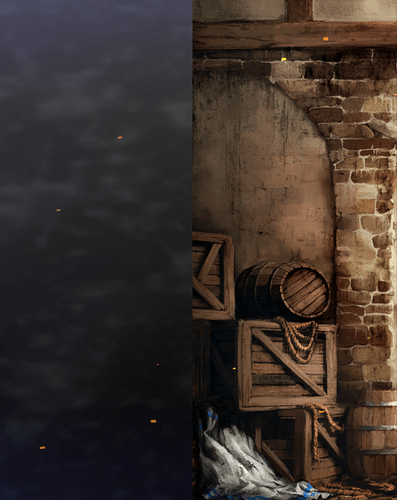 Those are ingame particles like flames etc.
It is probably the same issue as the one I reported a while age: