Are there no other medieval age civ left to add in the game?
There porting aoe 1 onto the AoE 2 de engine. Probably will be a separate game I'm thinking, cause it doesn't make sense to mix the civs from AoE 1 into aoe2 directly
This will basically be a separate game and no that doesn't mean they won't add more Medieval civilisations in the future. They already hinted at new DLCs on their roadmap.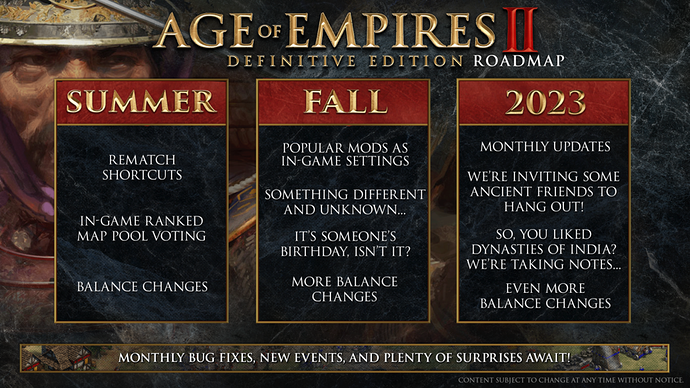 So, you liked Dynasties of India? We're taking notes…
Sounds a lot like another DLC that potentially reworks an existing civilisation.
We're inviting some ancient friends to hand out!
This part is pretty obvious what it referred to now.
If this is true, I couldn't fathom how to balance those ancient civs with the ones from AoE 2.
not.
It will most likely be a completely separate gamemode.
Rome is better than pakistan.
Can we please stop with this evaluation stuff of peoples?
We can assess that the Rome expansion definetely makes more sense for the devs as there is argueably a higher amount of the playerbase interested in this expansion.
It's purely a financial decision and should be handled as that.
What I understand, it is port AoE1 content into AoE2
Why not? I think its a fantastic idea, Romans are the pinnacle of civilization, and way more interesting than some aoe2 civs which frankly from a historical point of view are not that important
We already have Romans in the game (the new DLC is an AoE1 port), and historical importance is very much subjective. Imo what is important to AoE2 is how important was the civ for their region and period and not the """impact in history""" some people here like to insist on.
Rome has been in the game since 1999
I agree on the importance but I think it would be good to play the romans on the aoe2 engine (as an aoe1 port on aoe2 which i think is whats gonna happen), I dont understand the negativity towards rome
I agree that the new DLC is good but Im just negative about the idea that Byzantium is somehow a diferent civilization to Rome.
Roman empire is super overrated imo
Always had more interest in Persian, Phoenician and Celtic cultures
Without rome europe would never be where it is today.
It is the opposite. Fall of Rome led to where Europe is today.