Many of you are wondering why? Is it because of graphics? lack of diversion and small number of civs?
For some people maybe? But for the most players its because of this: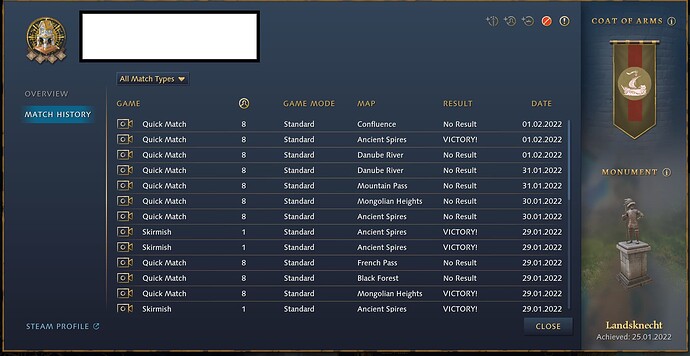 Oh yes all the drophackers ruining entire 3v3/4v4 teamgame modes. There is zero point to play them on ALL ELO ranges. My last 3 games in 4v4 were all drophacked.
Maybe u have noticed how some people were spamming last 3 livestreams about drophacking/no-resulting exploits. That were guys from our group. I wanna call a people who kept saying in the chat they never faced a de-synch had to play like 5 games OR never played a mode above 2v2 or are paid actors … there is no other way. Devs were avoiding answers and all what we got was something like: Keep reporting them we are working on that … Excuse me but working on what?
This is screen of my mail (its older one cause I stoped to play tgs a while ago / untill my return today where I was drophacked again in a 1 game) So I dont report players so often as I used to anymore about who am 100% convinced they caused the crash.

So yeah … I have reported over 30 drophackers already both via in-game button and trough official request and I KEEP TRACKING THEM … and guess what? MANY MANY of them are still on live server hapily playing and still ruining game for all the others.
Thats only one topic I wanted to talk about. Now maybe even the more crucial one.
THE WORST MM CHANGE IN HISTORY OF GAMING?
mm before was kinda decent - yes u had to wait for a game between 6-8:30 mins but U knew that your game is going to be at least on some level (am/was in TOP100 trough all modes from 1v1 to 4v4) - reaching top5 in tgs cause I played them most of the time alone or with friends.
Let me show you some examples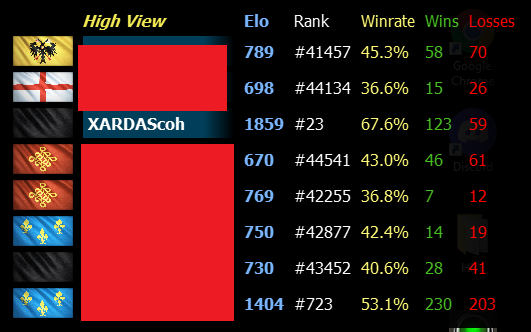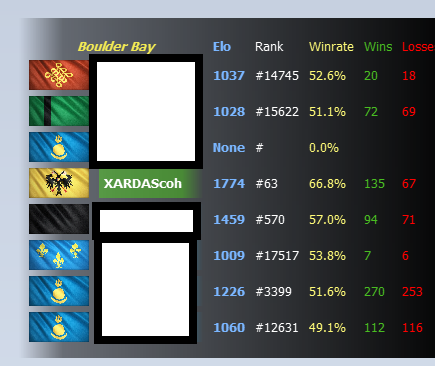 MM so bad that even if u win you get literally 0 ELO FROM WINNING and websites thinks you have lost

Ranks above 40k with OVER 1000 ELO DIFFERENCE are completely normal … its not like 1 from 10 games is like this … its every third … and most of the games are against ranks 10-15k … Yes everybody enjoy such a game …
So not only MM sucks really hard but there are drophackers waiting for you everywhere.
I have my own system of dodging games - When there are more than 2 people with Hidden match history I dodge - this way I know who to report from enemy team if there is only one wtih hmh (You can easily recognize when they are doing that on purpose - just at the moment they realize they cannot win fairly

)
But Xardas there is some system which detects(counts) no-results of all members of one and second team and after that WIN or LOSE is based on which team has more NR in their history.
Wow … thats cool … but fact is that I (with 900+games) have much more NR than some secondary(third 4…5…) - Yes a lot of them makes new accounts via account sharing THAN ME … a lot of fair people have tons of NR in their history as well cause u cannot avoid it … simply NEVER.
I could speak about TONS of features which are badly designed/wrong but it would take 1+hour only to exaplin everything. I have GOLD experience with all RTS.
We had a group of 40 people on discord. All fair and decent players from all along the world. We used to play together tgs … and do u know how many are still active? 3 … mostly plaing separatedly 1v1 or 2v2s together …
So yeah now ask yourself again who would like to play this game?
I started to play 1v1s like a week ago which I ENJOY BY FAR THE MOST (mostly because of this) so I recommend to every single player who had the same mindset (tgs>1v1s 24/7) to give it a try and play it. Dont be afraid and you will improve your play a lot.
Cheers boyz. Lets hope for better tomorrow and hope that DROPHACKING will not be a thing in upcoming rankeds and that MM will IMPROVE BY A LOT otherwise we are about to lose 1/2 of game and tgs rankeds will be worst clownfiesta ever.
Good night and be nice to each other.