Ahoy,
Here is my design for a civilization that covers the Toltec-influenced Yucatec or Lowland Maya of Mexico's Yucatan Peninsula.
Why Split the Mayas?

A split of the Mayas makes some sense, at least as much as proposed concepts such as Italian splits into individual city states, or existing splits like the Burgundians from Franks. "Mayas" is a fairly broad ethnic designation that covers a variety of distinct kingdoms, city-states, and languages, but can be reasonably split into two groups. The existing Maya civilization wouldn't need any changes, except to be renamed as "K'iche" (the language they already speak in-game), or Highland Maya, and would represent the K'iche and neighboring kingdoms, or the Mayas of Guatemala. I further like the idea of a Mayan split, because the original civ design left a lot references to actual Mesoamerican culture and history on the table (Ball Courts, Early Literacy, Mathematical/Astronomical proficiency, Cotton Armor, Cash Crops) opting instead for inspiration from other cultures, such as El Dorado.
Yucatec Maya:
Infantry and Skirmisher Civilization

-Infantry can gather meat, fish, and berries.
-Infantry +2 Attack vs. Cavalry and Eagles per Age.
-Economic units move and work 0.5% faster for every economic upgrade.
Unique Units:
Moyayaotlani: (Nahuatl Placeholder word until I find a Yucatec equivalent)
Unique Skirmisher with powerful attack and fast projectile, trained at the Archery Range in Castle Age.
Moyayaotlani Stats

Hit Points: 35 Speed 1.00 Range: 5 Attack: 8, +1 vs Archers, Armor: 1/3 Reload Time 3.0
Frame Delay: 5, Spear Speed 8.5
35 W 35 G
Elite: Upgrade 450 W 300 G
Hit Points: 40 Speed 1.00 Range: 5 Attack: 9, +2 vs Archers, +1 vs Cav Archers, Armor: 2/4 Reload Time 3.0 Frame Delay: 2, Spear Speed 10
35 W 35 G
Ah Kin: Maya priest that is trained at the Castle and can convert siege. Can toggle between standard conversion mode, and sacrifice mode, which kills the targeted unit, (Heresy effect) but converts faster, and generates gold for every sacrificed unit (not buildings).
Ah Kin Stats

HP 35, Range 9 120 G, Sacrifice mode converts 66% faster and gives gold in the amount of 10% of the total cost of the enemy unit. All other stats same as a monk.
Elite: Upgrade 750 F 400 G
HP 40, Range 10 120 G, Sacrifice mode converts 100% faster, auto-acquires enemies in range, and provides 12% gold.
Unique Technologies: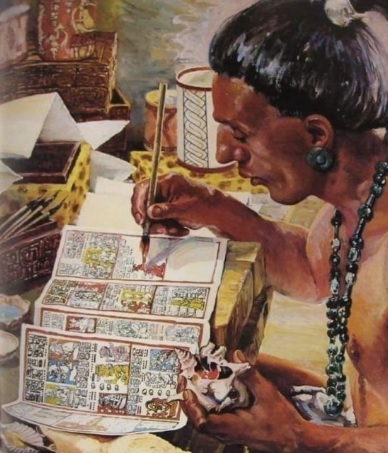 Glyphic Script: All technologies (including Imperial Age) -25% Cost and Research Time. (400 W 400 G)
Pitz: Unique Units, Eagles, and Skirmishers train and Move 20% Faster.
(650 W 350 S)
Yucatec Maya Description

The Maya of the Yucatan peninsula shared similarities with the Highland Maya, but were also distinct in many ways. Their location gave them easy access to goods from both the jungle and the sea, and their sea trade could access many ports in Mexico and Central America. Cities such as Chichen Itza and Mayapan show a strong Toltec influence, and may have infused that region with a more militaristic and conquest-oriented culture, as well as Mexican-inspired architecture. Many of the most impressive Maya cities are located in the Yucatan, including Chichen Itza, which has numerous ballcourts, temples, and Tulum, which was a major coastal trading center.

The Yucatec Maya early game is somewhat weak; the starting eagle and any other early-game infantry can boost the economy by gathering food in their down time, but this bonus is situational and becomes obsolete quickly. Their second eco bonus builds slowly with each upgrade, but does not become significant until mid-lategame, when most of the technologies are researched. Their Castle Age unique technology requires a significant investment, but helps in the long term to save time and resources on expensive technologies. In lategame the Yucatecos have an excellent economy, with villagers, fishing ships, and trade units moving and working about 7% faster. While they lack the Elite Eagle Warrior upgrade, their eagles are strong against enemy cavalry and eagles, and are extremely fast. In Imperial Age they have access to strong counter units and monks, and very fast Eagle Warriors.
Missing Techs: Gunpowder and Cavalry related units/techs, Elite Eagle Warrior, Arbalester, Siege Onager
Will add a scenario or mod for this eventually. I'm not entirely sure whether all aspects of the design are possible via modding, but I'll look into it…