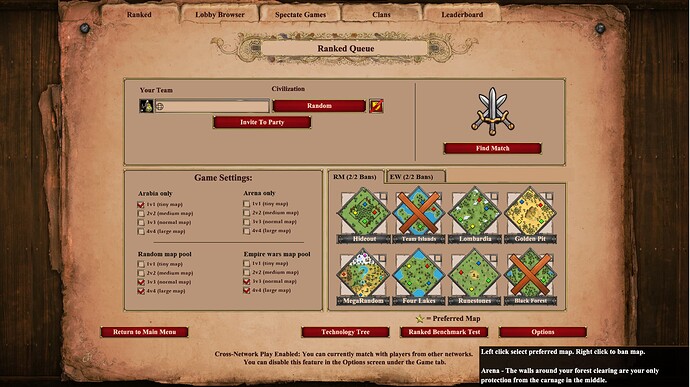 I think a lobby that looked like this would resolve many of the issues we have with Alt-f4. Maybe it's not perfect but it's a simple change. Frankly it's negligent the devs haven't done something for this yet. Punishing Alt-F4 is fine but it's a treating the symptoms and not a cure for the real issue.
Edit:
This would essentially work like the matchmaking does now but would allow players to play only Arabia or only Arena. I find these are the most beloved and contentious maps. Meaning Arabia folk are often opposed to Arena and vis versa.
I think matchmaking would be the same or faster at certain ELOs. At lower ELOs I believe matchmaking would be much faster than it is today especially if you have Arena selected. If you browse the custom games in the lobby you will see a lot of Arena noob and a fair amount of Arabia noob games. With this system all of those noob games could moved to the ranked lobby. This would really help the lower ELO players get good matches. I occasionally try to play some Arena in the lobby browser and it's really uncommon to get close games.
If you like the current system and enjoy playing any open map on 1v1 you would simply select 1v1 Arabia and 1v1 map pool. Then you could ban hideout, amazon tunnel, black forest, islands, etc. in the rotating map pool. Essentially like you do today. This would also mean the open map fans don't need to waste a ban on Arena.
This isn't a perfect solution for the Black forest or Nomad hardcores but it would get them closer to getting those maps.