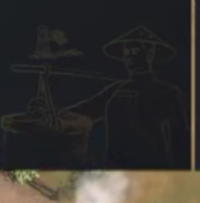 (The second image appears in the dynasty introduction window)
Chinese female villagers' clothing style in the age3 and 4 is ridiculous.
It is undeniable that these collar like a 厂 is a representative style of Chinese clothing in recent hundreds of years. However, it did not become popular in China until the Qing Dynasty which began in 1644 and ruled by Manchurians. In fact, this style of clothing did not originate in China proper but in the Siberian region.
I know the production team probably tried to emphasize the influence of Mongolian culture on China after 13th century, because this clothing style is appear in age3 which correspond with the Yuan Dynasty(began in 1271 and ruled by Mongolian). But actually Mongols during the Yuan Dynasty did not wear in this style either! I don't have much evidence on historical textual research but I am sure that this collar style did not become universal among Mongols before the Mid Ming Dynasty.
Here are some earlier Mongolian costumes for your reference.

So, even if the Chinese clothing in the Yuan or Ming Dynasty was influenced by the Mongolian style, that 厂 collar style still impossible to appeared.
There is a lot of reference material about the dressing style of Chinese women in Ming Dynasty like this, so I won't post too much here.
What's more, it will not take much time to fix this mistake, I believe it only need some operation on texture but not the model, like erase the cross bar of 厂 to transform it to 丿,also you can erase all 厂 and draw a graph like a V or Y. Or it is fine if you simply continue to use the female villagers' model in age2, at least it's not wrong.
I know there are many historical appearance errors still need to fixed and you should be very busy recently, I'm just reminding you to be aware of this.
Thank you for your attention, and looking forward to this issue being fixed.