I have not played the Definitive Edition of Age of Empires 3 yet but I did play the original Age of Empires 3 on numerous occasions as a teenager and during High school. With the addition of the "Captured Mortar" unit and the recent June update the Lakota has finally been given other options to siege than just relying on the "Charging Ceremony" (originally called the "Fire Dance") which they DESPERATELY needed, especially access to long-range siege, for many years.
However, I hope this won't be the only changes that will be made to the Lakota concerning their sieging capabilities, because now they have to send cards and wait till the Industrial Age in order for them to get access to siege units.
Sure their infantry may have damage multipliers against walls now and even if the "Charging Ceremony" may not be as good as it was before it should still have its use. But do these aforementioned default siege capabilities, which doesn't require any cards, make up for the Lakota civilisations deficient sieging options? No it does not.
If we take a look at every other civilisation in the game, all of them gets access to proper siege units upon reaching the Fortress Age, while the Lakota does not. And a majority of their siege units requires no further conditions than just reaching the respective age at which they can be trained. Why can't the Lakota do something as fundamental like this?
This roundabout method for sieging as the Lakota does not make it more interesting to play as them but it only makes it tedious, just like it did in the past but it was much more worse then. Because of this the Lakota player can't raze buildings from a safe distance or do so without suffering a lot of casualties, until getting access to the "Captured Mortar" or by sending the "Territorial Claims" card.
What the Lakota needs are MORE proper siege units that can be trained once reaching the Fortress Age from a building. This should not be exclusively obtained from cards or by waiting till late game.
I did send a list of suggestions to the development team where I suggested that the Lakota could build the "Siege Workshop" building, where they would train their unique siege units from it. One of these military units would have been the "Sapper" which would have function as a hybrid between a "Falconet" and a "Grenadier". The Sapper would have been an Archer that would shoot arrows with dynamite sticks attached to them, but I guess that wouldn't be historically accurate for the Lakota. Instead of this why not give them the option to train a "Captured Falconet" or "Captured Horse Artillery"?
And finally I think it would be great if the Lakota civilisation could train an alternative Heavy Infantry unit, because the "Club Warrior" becomes less useful later in game due to their fragile nature despite being a Heavy Infantry who are supposed to take more of a beating. The one I had in mind would be a Heavy infantry unit called the "Mauler". The description for this unit would be: "Heavy Infantry armed with a long handled club. Deals a crushing blow to any enemy within range."
The weapon that they would use can be based on the "Double Pointed War Club" which was a weapon used by the Native Americans from the Plains. The weapon itself looks a lot like a Two-Handed Maul but with a hammerhead that is very reminiscent of an American football in shape. According to an auction site known as the "College hill arsenal" (Plains Indian Double-Headed War Club) these clubs were given longer shafts upon the introduction of the horse. The reason for the longer shaft was necessary to be able to attack a mounted warrior from the ground, as well as attacking a foot soldier when on horseback. In some cases the stone heads for these clubs had crystal inclusions. Rocks such as these were apparently thought to have mystical powers.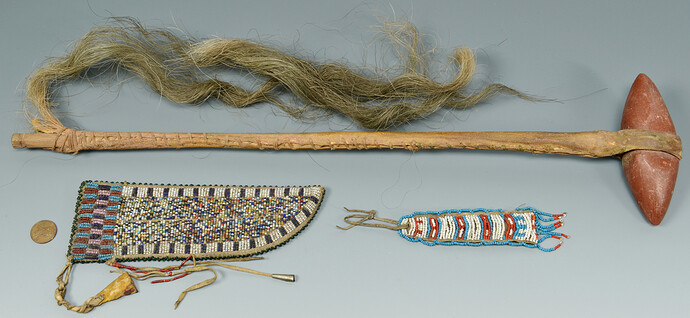 The "Mauler" will fulfil the same role as a "Halberdier" where these guys will replace the "Club Warrior" unit as a more versatile and combat efficient unit when reaching the Fortress Age