Since DE came out, I've noticed that a lot of new mercenaries have been added to the game, which is great, but it's also a problem. The only units currently that have multipliers vs mercenaries by default are Spies, Ninjas and Maigadi, per shipment, Native Scouts also have the multiplier. But, it has always been very questionable that such weak units are capable of facing mercenaries, which are very powerful units.
My proposal is the following, we must create a new tag. for these units, which can have any name, such as "Agents" or something like that. Mercenary units should have a low multiplier against these types of units, and at the same time, units with this tag should have high multipliers against them. Creating the following system.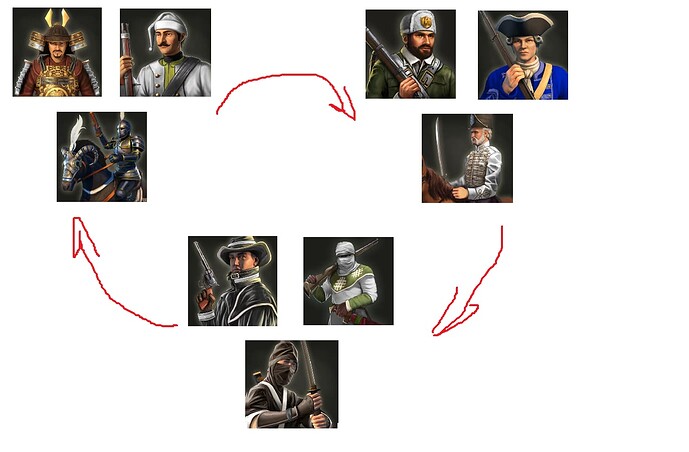 This system today is not applied correctly, because the mercenaries have had a "Powercreep" type evolution, new very strong mercenaries have emerged and the spies and their equivalents have been left behind. This means that unless the spies are in good numbers, and using stealth so they can get enough of the mercenaries, they are not efficient. and yet in this scenario the spies do not trade correctly with the mercenary units.
I consider that apart from creating a new tag for the anti-mercenary units, you also have to apply some kind of buff to them. For example, Spies can gain a skill on cooldown, in which they can deal damage to mercenaries from a distance. (but not Heroes), as shown in the following video.
Finally, add by "default" to all civilizations, at least one anti-mercenary unit with at least one ranged attack skill. This unit may or may not have damage against Heroes and may or may not use stealth, but it is important that it is available, nowadays I am seeing that many players abuse Mercenaries, and it is impossible for many civilizations to deal with them correctly.