GAME INFORMATION

These details are CRITICAL; DO NOT skip them or your issue may not be reviewed.
GAME BUILD

#:

58259 (Latest update on Steam)
GAME PLATFORM: Steam
OPERATING SYSTEM: Windows 11 & Windows 10
ISSUE EXPERIENCED

DESCRIBE THE ISSUE IN DETAIL (below). LIMIT TO ONE BUG PER THREAD.
Since the last update, after the intro cinematic, the screen stays black instead of displaying the main menu. I can still hear the ambiant menu sounds. I can still click on buttons (for example I can quit the game).
I tried deleting my local Steam Cloud saves (which include options, hotkeys etc) and the main menu news displayed properly, but this only happened once, and did not happen again after a retry.
I have over 1000 hours in the game and never had such an issue before the update.
FREQUENCY OF ISSUE

How often does the issue occur? CHOSE ONE; DELETE THE REST!
100% of the time / matches I play (ALWAYS)
This issue happens every single time I launch the game ever since the last update.
REPRODUCTION STEPS

List CLEAR and DETAILED STEPS we can take to reproduce the issue ourselves… Be descriptive!
Here's the steps to reproduce the issue:
Launch the game
Wait for the intro cinematic to end, or skip it
The screen fades to black, and main menu sounds start playing, but no image is displayed.
EXPECTED RESULT

What was SUPPOSED to happen if the bug you encountered were not present?
The game menu would open and display as expected.
IMAGE

ALWAYS attach a PICTURE (.jpg, .png, .gif) or VIDEO (.mp4, YouTube link) that highlights the problem.
What is usually displayed while this issue persists :
Only a black screen
After deleting local Steam Cloud saves :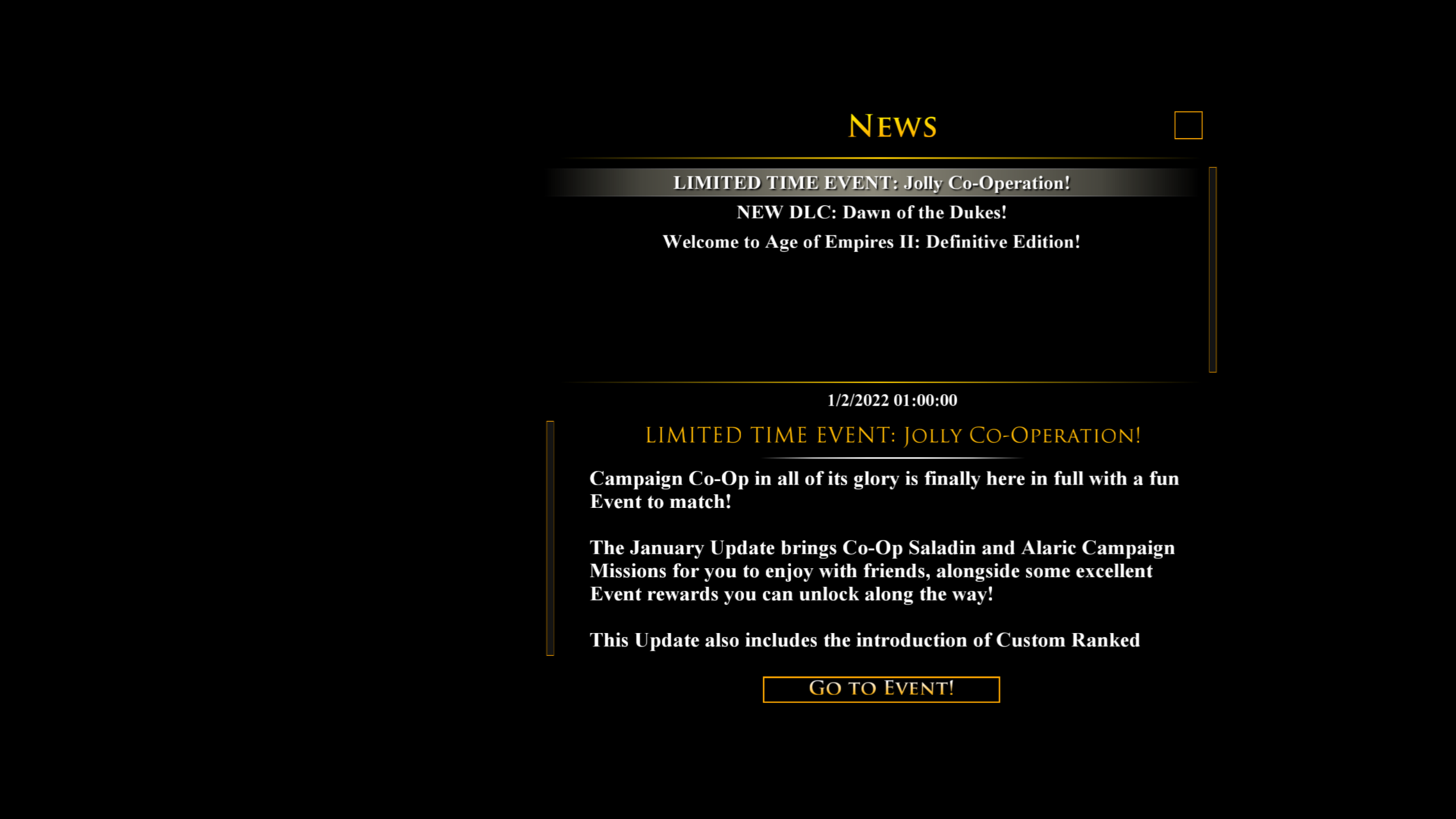 GAME FILES (SAVE / RECORDING)

Attach a SAVE GAME (.aoe2spgame) or GAME RECORDING (.aoe2record) of the match where you encountered the issue. Link it below if using an external file service.
This happens inside the main menu, not during a game.
Here is a pastebin of my DxDiag : DxDiag - Pastebin.com
Here are troubleshooting steps I tried :
Relaunching the game
Restarting my computer then launching the game
Uninstalling then reinstalling the game
Updating audio and display drivers
Updating my BIOS
Finally, I completely wiped my computer, and installed Windows 11 on completely clean partitions. But the issue still happens after reinstalling Steam, then AoE 2 DE.
I would greatly appreciate any help, thanks.