Checking back in here.
Stopped playing a week after release when I realized they weren't going to fix the ZOOM
Still isn't fixed.
I can't enjoy the game with the current zoom level so I'll continue to play aoe2 which has a level of zoom I enjoy playing at. simple as.
Not surprised to see in the months since I stopped playing this game has bled players compared to AOE2.
I will tell you the exact reason that AOE4 will never keep as many players as AOE2: the devs do not care what the community wants. Many many people have asked for the zoom level to be fixed since the CLOSED BETA of the game. It is something that can be fixed with a simple number change in the code. Still isn't fixed 8 months after the game launched? There's no coming back from that one.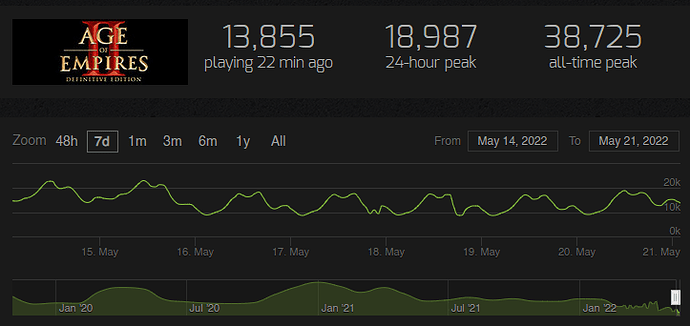 If I sound mad it's because I love the RTS genre I dearly wanted AOE4 to be a success. It pains me to see such simply resolved issues be the downfall of a game that could have revived an entire genre.