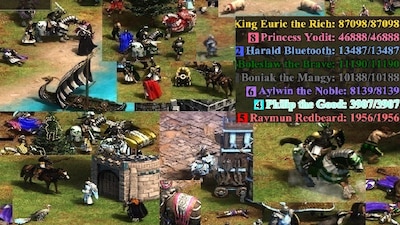 Age of Empires - Mods - Enhanced and Higher Quality New Colors
Player 1: Enhanced Blue
Player 2: Enhanced Red
Player 3: Metallic Dark Emerald
Player 4: Gold
Player 5: Angelic Teal
Player 6: Royal Purple
Player 7: Black
Player 8: Rose Pink
Due to a bug in the game, the health bars directly above units won't change colors from mods.
Optional - Health Bars: Download the 50500 file and replace the one found in the games install folder in AoE2DE\resources\ _common\drs\interface to add the health bars manually.
WARNING: Create a copy of the original 50500 file in AoE2DE directory in case you want to revert the health bar colors without verifying cache files or reinstalling.