I'm going to present a few ideas of units that I think would be a cool addition to the game. Please feel free to add more units you think should be added.
French Foreign Legionnaires

I'm thinking of having them as units which are similar to the Zouave and the Fusilier units already in the game. They should be a 2 pop unit with low hit points but an attack which is three times greater than the average musketeer, movement speed of 4.5 and increased range of 15. They will still have the same anti-cav melee multipliers as Fusiliers. They should only be available at French Forts and Taverns. They should have a cost of 300 coin each but should be affected by all France's Musketeers HC Upgrade Cards including the battle promotion one. (with three kills under their belt, a Foreign Legionnaire should be able one shot most single pop infantry)
Royal Marines

I think these units should act similarly to Humbaraci. They should be a single pop unit that have a x3 multiplier against all artillery and a range resistance of 20% but a siege resistance of 50%. Their range should be 16 and they should also have a high siege attack (especially against defensive buildings). They will have the same states as a British musketeer in all other regards (except no melee cav multiplier). They will be trainable from all British ships and docks. They will be able to build docks. Twice as many Royal Marines will be able to fit on a single ship at a time than normal units (limit of units allowed on ship increased to 100 from 50). The perfect unit for island hoping campains.
Conquistador

This one is a lot more simple than the others so far. I'd like the Spanish dragoon to be replaced by Conquistadors (basically the same looking ones as the Jesuit Conquistadors), but be available in age 2 rather than age 3. I'd probably make their overall stats slightly worse than normal dragoons but give them a much wider line of sight and a few more hit points.
Coldstream Guards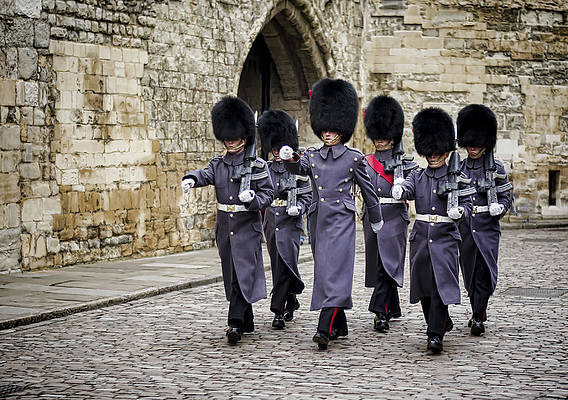 Despite the first picture above showing them in red coloured uniforms I think it would be nice if they were depicted in their less popular grey uniforms (as shown ## ##### ########## photograph). They should be a unit with pretty much identical stats as a Giant Grenadier but cost some amount of food instead of only coin. They should be obtained through an infinite Home City card shipments in Age 3 or an Age 4 card which will allows them to be trained in British Forts.
Royal Gurkhas

They should have opposite stats of Rangers - a weaker range attack but a LOT more hit points. So this would make them similar to a Cherokee Rifleman (but will still have a range of 20). They will have a high movement speed and a x4 multiplier against heavy infantry in melee combat which they'll deal using their Kukri knife. They will have the ultimate survivability if any single pop skirmisher type unit. They will be available to the British in the barracks after a Home City card has been sent allowing them. (Royal Gurkhas will be very different from the Gurkhas currently available to the Indian civ).
Banduqchis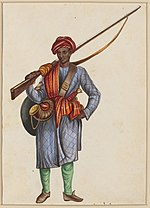 If all my proposals went through, I'd get rid of Gurkhas from the Indian barracks (as Gurkha only starting fighting as part of the Indian Army in the 1950s!!!) and replace them with Banduqchis. Banduqchis will act similar to Volunteers and Strelets. They will be a cheap skirmisher unit that will be able to be trained in batches of 10 and have an aura ability that improves their stats when stood in large numbers together. I think this actually would be very appropriate for Indian civ's game play, as for a country with such a large population they only seems to field a smallish arm in-game because of the huge population space elephants take up. The introduction of cheap spammable Banduqchis unit should change this.
Royal Highlander


They will be of a similar purpose as normal mercenary Highlanders but will be unique to the British. They will be available from Age 3 onwards and will take up two population. They will have extremely high based stats but have no multipliers against any unit. They will have a range of 15 to compensate for their lack of multipliers. Royal Highlanders' ranged and melee attack should be equal. They will normally have a range resist of 20% but will have a charged ability (like Caroleans) called, "The Highland Charge", which will lock all Royal Highlanders' attack into melee, increase their movement speed to 5 and change their range resistance into a 30% melee resistance. They should trade well against all units apart from Artillery and long range skirmishers which will be their main weakness because of their "Heavy Infantry" tag.
Prussian Line Infantry

Based closely on the Line Infantry unit available from the the Habsburg Royal House but with more standardised stats. Available only to the German civilisation only, they will have a range of 13, a rate of fire of 2.5 and a movement speed of 4.65 but will have less hit points and attack than regular musketeers. To make up for their lack of hitpoints they will have a 1.3 ranged multiplier against all cavalry. Available in the barracks from Age 3.
Filles du Roi

"The King's Daughters". Basically just a female Coureur des Bois for the French. Maybe give her a passive ability to heal units (I don't really know, I just saw it before on another post so thought I'd add them to here). (the second image was from the Mods Single - Age of Empires mod)
Dutch Blue Guards

Basically just a unique Dutch musketeer unit that is available to be trained only after sending the Religious Freedom church tech home city card. It will be obtained similarly to Rangers for the British. For 800 food, it will replace all your existing Halberdiers into Blue Guards. Then after that another tech will swap Halberdiers for Blue Guards in the barracks for 2000 coin. Blue guards will have similar stats as a Caroleans but will not have a charged ability; they will, however, have an increased amount of hitpoints instead. These new Blue Guard units will replace all the Dutch musketeers in the Asian Consulates. (second image from the 5.8 - UNIQUE HISTORICAL ARMY SKINS - S.XVII-XIX - Multiplayer compatible! - Mods - Age of Empires mod)