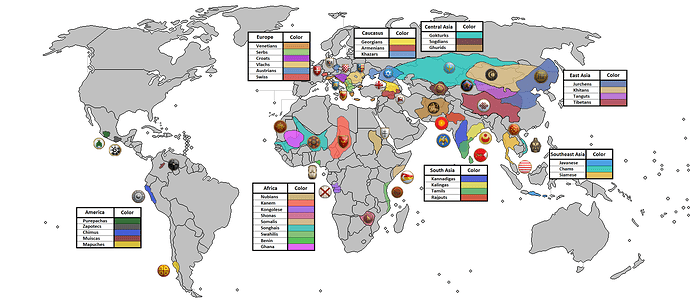 This is a map of the civilizations I hope to see in AOE2 overtime. It was inspired by someone else's post I found in reddit and one in this forums. But these are civilizations I want in the game and does not represent anything else. I made this world map based on googling and wikipedia articles I found on these civilizations. I'm pretty sure I might have missed some important ones. Made this for myself, but might as well share it here.
I hope I was able to correctly place the civilizations in their locations.
Let me know if I missed some imporant ones you'd like to see in game.
PS: This doesn't include civilizations in Middle or Late Antiquity
Most of the Icons used were from this amazing post in this forum. I made a few new ones, which I couldn't find there.