When can solve this problem?Bad game developer
10 days and still not fixed. Never buying a game through xbox app again
i gave up and spent $100 again to buy from steam. they wont even refund an app which they broke using an update. i was on the phone with microsoft support for 2 hours and they kept sending me from one department to another. i'll just assume this game cost me $200 instead of a $100
And you have to get all the achievements and items again from scratch? Might have to do the same if this isn't fixed soon. From reading the forum, apparently this issue existed after the first season as well?
at this point it is not wrong to suspect this is something intentional from the devs to reduce load on the servers . Pretty weird that only xbox gamepass/xbox app subscribers are affected . looks like microsoft does not consider us as legit buyers …
I dont care about those things I just play 1v1 ranked. But you can link your XBox account to your steam game I believe.
Does the game work fine for you? Also can you let me know if you're able to link the xbox account to steam with all the progress? Didn't think it was possible.
Until today the problem still here.
But the game can be played through physically disconnect and reconnect network (max. 5 times or up) to induced the reauthorized of the game.
First - slow loading screen (same as shown).
Second - (physical cable / network driver / connection icon) disconnect and reconnect network
and the game appear a button require to reconnect server.
Third - press the reconnect button.
Forth - if cannot induced the re-authorization repeat step 2 and 3.
(multi game and single game can be played)
(Tested for few times and few user accounts)
(VPN not required)
(p.s. Yesterday the forum cannot sign up new user and fixed by the support [Aeth (Age of Empires)]. Thanks a lot.)
(Multi game platforms authorized with the addition of functions and codes, created many troublesome in code debugs)
it works and no VPN is needed …



After launching the game, it gets stuck in this loading screen. I've tried re-installing teh game and still have this issue. Anyone else had this problem?
everyone who bought the game from microsoft store is having this problem. literally more than half the people who bought the game cant play because of this. i tried asking for a refund but they wont because i bought last year. lessen learnt never buy from microsoft store again. go steam.
the problem is exactly as I met
I'm having the same issue as above! This is so frustrating, literally the only game i play and it crashes!!
one more ! who solved problem ?
(With the addition of process screenshot.)
(For who do not understand process in words.)
Give a like if you successful play the game with this method!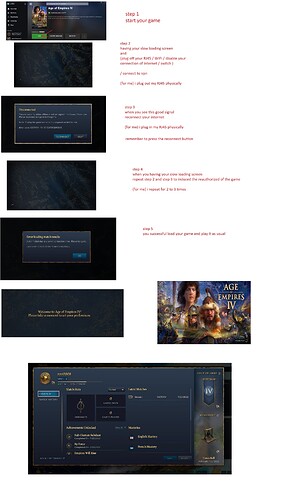 It work… but this is a band aid solution! Need a permanent fix. Other method that seems to work for me…
When you see a stuttering, alt-tab then open microsoft store.
Few days ago it worked for me , today the issue is back
Now the login loading bug is fixed.
(login loading time around 15 seconds)
(back ending login function is fixed)
and this post can be closed.
The issue isn't fixed for me. And your 'solution' doesn't help either.
I applied for a refund because I bought the game from Microsoft store instead of using gamepass. They processed my refund because this is broken for almost two weeks now.