This is just idea for Serbs in Dušan's Empire time :
IMPERIAL TECH:cost:500w 350g
will be "Spike Sheild"(Vitez and Vlastela line +2 attack and +1p armor)
New unique building:
Fortified Monasteries(can shoot arows)250w and 400st 4000Hp see pictures of serbian monasteries like Manasia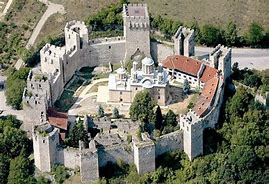 CASTLE TECH: cost:300w 350g
will be "Slava"(fortified monasteries generate food)
1.Unique Unit: Allemannic guard cost: 60f 45g(special ability: use sheild in melee fights)
Hp:55
Armor:2/1
LOS:5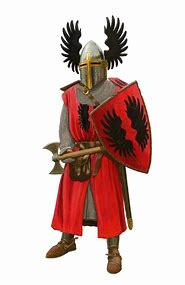 Elite upgrade Vitez 1000f 600g
Hp:70
Armor:2/1+1p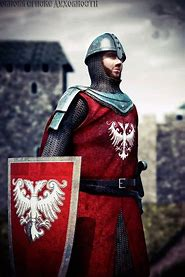 2.Unique Unit:
Vlastela(replaces knight line,CAN BE CREATED IN FEUDAL AGE,strong v infratry,monk weak v archer, camel)
Cost: 60f75g(thought ages,to be balanced)
Hp: feudal age:75 C.age:100(without bloodlines)
Imperial Age:130(//)
Attack:feud.7 c.age 10 imp.13.
armor:feudal 1/1castle 2/2 imp 2/3
LOS:as a regural knight
Names changing:feud.(early vlastela),c.age(vlastela)Imp age(heavy vlastela)
Heavy Vlastela upgrade: 1100f 650g weaker than Paladin stronger than Cavalier
Ability(ignore bonus damage from spear-line)
The main strength of the Serbian army were the heavily armoured knights feared for their ferocious charge and fighting skills, as well as hussars, versatile light cavalry formations armed mainly with spears and crossbows, ideal for scouting, raiding and skirmishing
Tech Tree:
Cavarly civ
Able to build: Fortified Monasteries
New bonus: Villagers collect 10% faster while are near fortified monasteries(10 tiles radius)
Vlastela deal +50% bonus damage to monks,and more resistant to conversation(strong ortodox church)
New bonus: Towers deal 15%20%30%Feudal/Castle/Imperial more damage to land units
Team bonus: Light cavarly +2LOS
Unique Castle: Golubac on Dunav, Belgrade fortress or Smederevo Fortress
Wonder: Monastery Manasia
(l allready have voice lines for military villagers and monks)
BELGRADE FORTRESS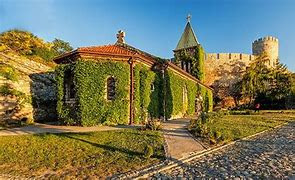 SMEDEREVO FORTRESS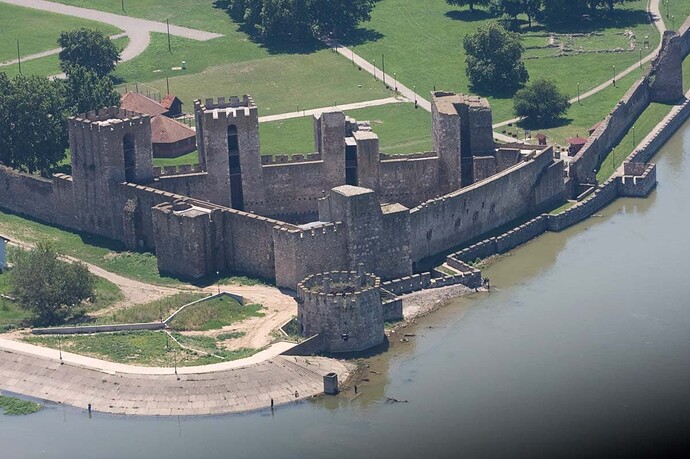 Golubac on Dunav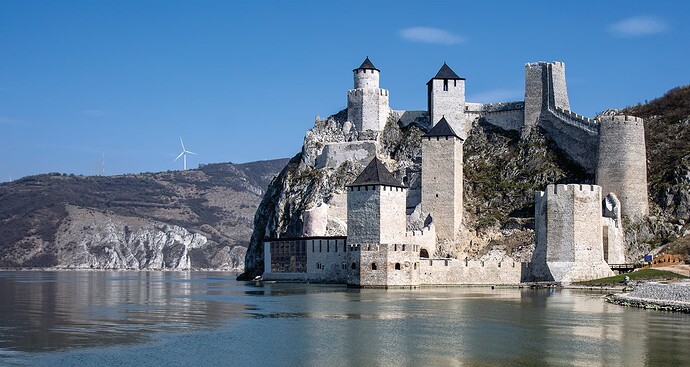 ARCHERY RANGE:missing partihan tactics,hand canoneer
BARRACK:missing suplies, squires, champion,
no eagle line
STABLE:no camel line, no steepe lancer line, no elephant line,no husbandry
SIEGE WORKSHOP:missing siege onager, onager
University:missing treadmill crane, heated shot, no keep
CASTLE:have all
MONASTERY:missing fervor, sancity, theocracy(church in medival serbia was strong)
BLACKSMITH:missing last archer armor upgrade
last cavarly armor
DOCK:no galeon, no elite canon galeon
MINING CAMP:have all
MILL:missing crop rotation
Lumber Camp:have all
Arhitecture set: NEW Byzantines
The gussar is fast light cavarly its not like vlastela(heavy cavarly batter in melee fights) big difference
and fortified monasteries have more HP and 1+range thats why is bigger cost
l have idea to replace knight line with Vlastela and Vlastela can be early knight(created in feudal age but expensive) little bit weaker than KT in feud. age like 70 hp 7 attack 1/1 armor(special ability ignore bonus damage easy to convert like a generic knight and weak v archers and siege) and to remove Gussar
** The Serbian Empire (Serbian: Српско царство / Srpsko carstvo, pronounced [sr̩̂pskoː tsâːrstʋo]) was a medieval Serbian state that emerged from the Kingdom of Serbia. It was established in 1346 by Dušan the Mighty, who significantly expanded the state.
Under Dušan's rule, Serbia was the major power in the Balkans and a multi-lingual empire that stretched from the Danube to the Gulf of Corinth, with its capital in Skopje. He also promoted the Serbian Archbishopric to the Serbian Patriarchate. His son and successor, Uroš the Weak, lost most of the territory conquered by Dušan, hence his epithet.
The Serbian Empire effectively ended with the death of Uroš V in 1371 and the break-up of the Serbian state. Some successors of Stefan V claimed the title of Emperor in parts of Serbia until 1402, but the territory in Greece was never recovered**
Reign of Stefan Dušan[edit]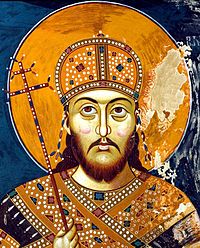 Serbian Emperor Stefan Dušan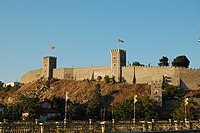 Skopje Fortress, where Dušan adopted the title of Emperor at his coronation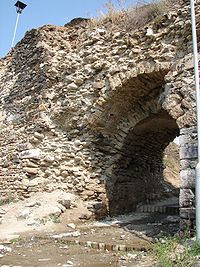 Main Gate of the Fortress in Prizren, which was one of the cities of the Empire
Tsar Dušan doubled the size of Serbian state, seizing territories in all directions, especially south and southeast. Serbia held parts of modern Bosnia and Herzegovina, Moravian Serbia, Kosovo, Zeta, modern North Macedonia, modern Albania, and half of modern Greece. He did not fight a single field battle, instead winning his empire by besieging cities. Dušan undertook a campaign against the Byzantine Empire, which was attempting to avert a deteriorating situation after the destruction caused by the Fourth Crusade. Dušan swiftly seized Thessaly, Albania, Epirus, and most of Macedonia.
After besieging the emperor at Salonica in 1340, he imposed a treaty assuring Serbia sovereignty over regions extending from the Danube to the Gulf of Corinth, from the Adriatic Sea to the Maritsa river, and including parts of southern Bulgaria up to the environs of Adrianople. Bulgaria had never fully recovered since its defeat by the Serbs at the Battle of Velbazhd.[7] The outcome of the battle shaped the balance of power in the Balkans for the next decades to come and although Bulgaria did not lose territory, the Serbs could occupy much of Macedonia.[8] Bulgarian tsar Ivan Alexander, whose sister Helena Dušan later married, became his ally between 1332 and 1365.[9] Dušan ruled over major central part of the Balkan peninsula. He gave sanctuary to the former regent of the Byzantine Empire, John VI Kantakouzenos, in revolt against the government, and agreed to an alliance.
In 1349 and 1354, Dušan enacted a set of laws known as Dušan's Code. The Code was based on Roman-Byzantine law and the first Serbian constitution, St. Sava's Nomocanon (1219). It was a Civil and Canon law system, based on the Ecumenical Councils, for the functioning of the state and the Serbian Orthodox Church. In 1355, Dušan began military preparations for new campaigns in the south and east east, but suddenly died of an unknown illness in December 1355.[10]
Military[edit]
Further information: Medieval Serbian army
See also: Military history of Serbia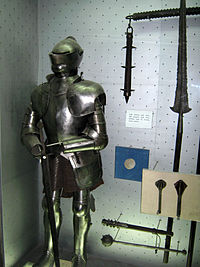 Serbian medieval armor
Serbian military tactics consisted of wedge-shaped heavy cavalry attacks with horse archers on the flanks. Many foreign mercenaries were in the Serbian army, mostly Germans as cavalry and Spaniards as infantry. The army also had personal mercenary guards for the emperor, mainly German knights. A German nobleman, Palman, became the commander of the Serbian "Alemannic Guard" in 1331 upon crossing Serbia on the way to Jerusalem; he became leader of all mercenaries in the Serbian Army. The main strength of the Serbian army were the heavily armoured knights feared for their ferocious charge and fighting skills, as well as hussars, versatile light cavalry formations armed mainly with spears and crossbows, ideal for scouting, raiding and skirmishing.
What you guys think?
if you think bonuses are too OP write in comments l have more ideas
GUSSAR REMOVED
ADDED VLASTELA
l think clear weaknes for Serbs are CA, Archer and Camel civs, Really strong against infratry and and monk civs