As the title says, these are the features that I would like the developers to take into account for future updates,
I hope we can see them in the future!

We will start strong, so fasten your damn belts, this is the completely polished and renewed Interface that I would like them to update, with not only a better organization, but also new features, such as: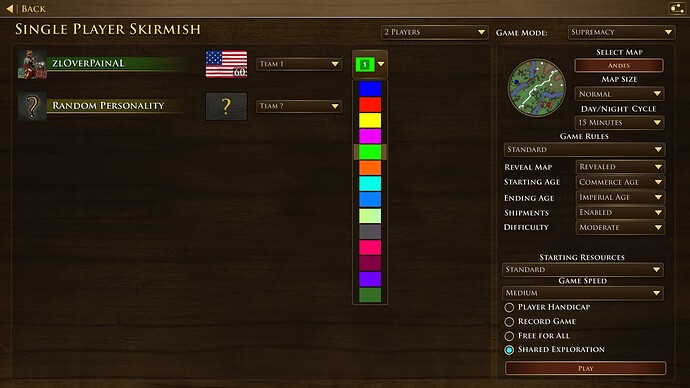 Map Size: Give us the possibility to choose the size of the map, whether normal, large or gigantic, without depending on the XL maps, as does AoE 1, 2 and M.

Day/Night Cycle: with different periods to select, either 15 minutes, 30 minutes, 60 minutes or 120 minutes.

Reveal Map: To be able to choose if we want a map with war fog, explored or completely visible in real time, without the need to depend on Deathmatch.

Shipments: The possibility of choosing whether or not we want the shipments to be enabled on this map, games without decks, somewhat slower and in the classic AoE style.

Shared Exploration: It does not matter if it is your ally or enemy, you will have to build a market to share the exploration with your ally.

Seed: I did not include it in the concept, but I suppose that more advanced users will know what this is for, a set of random numbers that generate a variant of a random map, if we copy a seed already used and introduce it, it will generate exactly the same same map identically (I think for maps like "The Unknown" this would come in handy).

More Custom Player Colors: Being able to choose more than 8 custom player colors, without having to modify the existing 8 in accessibility and replace it, I think that extending it to 12-14 would be a good number!

A new Map selection interface inspired by those of AoE 2 DE and AoM, with the chance to see all the minimaps and choose more comfortably which one we want for this game, without having to search a list, select it and see if Like or dislike the map according to its preview, the best thing would be to have all the previews at the same time, also with filters either by regions, biomes, etc.


Arrange the order of the decks: The second feature would be to be able to order and move the decks to our liking, for greater comfort according to our priority.


Reset Camera Button: A button with the letter "R" for Reset, which when clicked will allow us to reset the distance and rotation of the camera to its default version.


Inverted Definitive HUD: A fourth and new HUD, it is a mix between the classic interface and the definitive one, where the build panel and the minimap prevail in its classic version, while the resource bar in its definitive version, that is, in the top.


Tech Tree in HUD: Technology tree in the upper right panel, a form of direct access for those who want to view the technology tree in a faster way without having to access the menu first.


Animated Fog War: When I played the Closed Beta MP of AoE 3 DE when it was announced, I was surprised that we did not have animated war fog, being that we came to see this feature in its predecessor title, and later we would see it again in AoE IV according to its gameplays, I would love for an option to be added in the graphic configuration to enable it, I also made a concept of what it would look like and this was the result:


Fog of distance disabled: Option to remove the fog that is generated when the camera is zoomed out with the new Ludicrous Zoom feature. This does not happen in all maps, since it depends on some values ​​added in the game's .LGT files, it would be great to have an option in graphics settings to disable it, here is an example of the difference:


New cosmetics for civilizations that already have: It would be great for example to have a night version of the Home City of Spanish, among all the others that there are, I think that the skies and lighting can be exploited more.

Noddinagushpa's New Arrangement for African Home Cities: It would be great if African civilizations have their own musical arrangement when you choose their home cities.
European Civs and United States = Noddinagushpa
Native Civs = Geldovamagushpa (The WarChiefs)
Asian Civs = Baktumagushpa (The Asian Dynasties)
African Civs = Noddinagushpa Again?? NO! (The African Royals)
Fix the bug causing the Civilization Jingle to fade when you start a skirmish: When you start a Skirmish, after 5 or 6 seconds the Jingle of the corresponding civilization disappears and begins to sound "Happy to you" and the only way to hear it in full is to click the "Restart" option so that the skirmish restarts and so on. the full jingle is heard.

Improve the visibility of the numbers of units grouped 1-9: Sometimes it is difficult to distinguish them a little in moments of speed, I remember that when AoE 3 DE was launched the number of shipments from metropolis looked exactly the same, then after weeks it improved and it became better visibility, it would be a good idea to do the same with the numbers of the groups.


Villager Banner Transferred: Transfer the idle villager banner below the bar that indicates your age, AoM does something similar so as not to confuse these banners with those of the groups of units in quick moments, this place would be something more comfortable and close at the same time. In addition, it would be differentiated from other posters to avoid confusion. Adding also, that a banner was added to also find your explorer more quickly.

Well, with this I finish, I know, there are many things, but the main one that I would like to see would be the most advanced selection of maps, since that list is somewhat lazy hehe, I hope that several of these will be added in the future!