Newbie here, in fact I'm totally new to modding and stuff.
I'm trying to use Advanced Genie Editor (AGE) to create a new unit - a halberdier hero unit, but failed. Obviously it is based on a halberdier so I just simply copied the info of halberdier (359), created a new unit (1701 in my system) and pasted there, while editing a few of the characteristics.
I do not want to change any of the graphics at the moment, and merely increased the HP to 180, base attack (Class 4) to 18, and checked "Hero Mode" (because it's a hero unit!).
But here the problem comes in terms of naming. If I change the "Language File Name" to 0, no matter what "Internal Name" I give (whether it is HLBDMH in this screenshot, or "Halberdier Hero"), the unit would not appear in the Scenario Editor. (Note that the Internal Name for the normal halberdier is "HLBDM")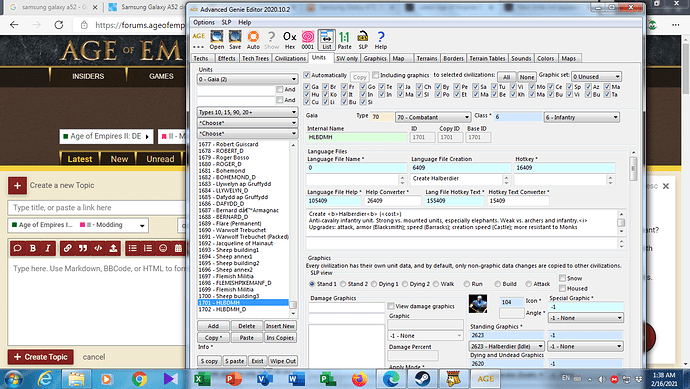 Whereas if I link the "Language File Name" to something in the language file, whether I leave it as "5409" ("Halberdier") or I changed it to something else, say, "6037" ("Name") (since I can use trigger to change the name in the Scenario Editor), though the unit appears in the Scenario Editor, once I place the unit and test the scenario, the game would crash. (Note that I have changed the Internal Name as "HLBDMH" as mentioned above)
Even if I created a dead unit based on HLBDM_D (502) and name it as HLBDMH_D (1702 in my system) in order to make it as the dead unit for my new unit, it doesn't help at all either.
I have read this but I have no clue on solving my own problem.
Wonder what has gone wrong, thanks.