Gotta be Brazil.
Awesome patch devs!
Yeah, i m think Brasil or Italy is comming
você e um membro muito útil para esse fórum parabéns
Massive patch. Thank you devs!
And I hope for Polish-Lithuanian Commonwealth

I must say, the game is very bugged now
The TC hitboxs is bugged, there are maps that do not give you your crates and travois, and we are finding more and more errors
Really??, Its worse the medicine than the disease xD
Nice update.
I wish this won't be another revolution civ since we already got Mexico a few months ago, It's time for the 2 civs (even 3-4 pls) pack, especially Middle Eastern (Persians, Omanis, Afghans)/Europeans (Poles, Danes, Italians)/Southeast Asians (Burmese, Thai, Vietnamese) but one can hope…
No more civs by some months please!!! They need balance first!!!
Brits start with 300 f and swedens with 200 f, the changes were not applied. We need a hotfix
What happened to new Game mode??
Let me guess the new civ: Italians
It would definitely be good to have the Italians officially featured in AoE3 because Italians are very appropriate for the timeframe of AoE3 which is why the Italians were originally going to be in AoE3 but couldn't make it in the final.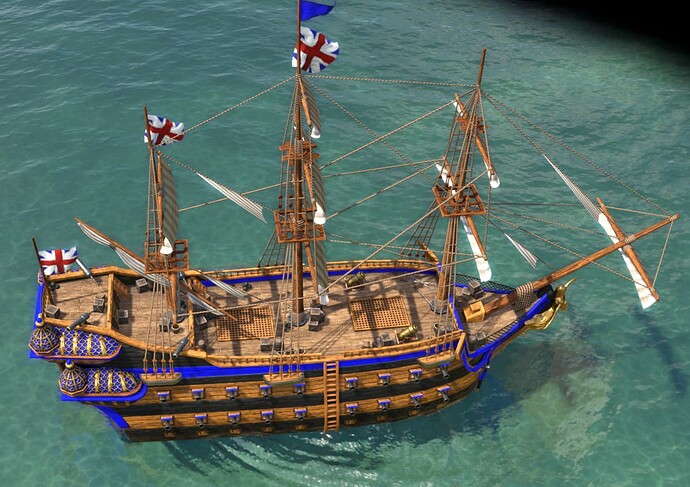 Today, the British become the first civilization to gain access to all EIGHTEEN cannons aboard the mighty Sovereign of the Seas! Behold, the Battleship – only available from the homecity.
I suppose that if they say that it is the first, it is because other civilizations will also receive something similar in the future.
---
What's on the Horizon?
COMING UP…
New Civilization!
More performance improvements for low end systems
HC customizations for the two Native American civilizations
Additional Explorer customizations
I hope that by the middle or end of this year we will read:
What's on the horizon?
Massive update to the natives of the base game, TWC and TAD.
Rework to European cattle.
Rework to Lakota and Haudenosaunne "mining".
Make viable mechanics, cards, units and other aspects almost dead and practically obsolete.
Renewals to the original content and its first two expansions
If the Middle Eastern civs you mentioned were to be added, then I can imagine that some architectural changes would be made such as the Ottomans using the Middle Eastern building set instead of the Mediterranean building set due to the fact that the Ottomans happen to be Middle Eastern.
Great!
I just hope it's not another American colonial civ. Not that I'm against them, but I want something fresher for now.
Yeah it's final time for the winged hussars to arrive.
It reminds me of the Pirates of the Caribbean. We need the Flying Dutchman now!
South american colonial civ?