I originally wanted to reply to this in another thread, but then felt the need to open a new thread.
Look at this. What a disaster. @StepS7578 I can't believe you let this kind of unfinished feature into a release version. I gave you 4 feedbacks 20 days ago, in the PUP forum. You only fixed one of them. Since the beta forum is closed now, I have to repeat here:
First, the indicator is not accurate! Look at a comparison with Age of Mandala and you will understand. TC range should be 4 line segments + 4 arcs. And the devs naively put a circle there. This is simply WRONG information.
Example: In the figure below the green segment (mandala mod) is the correct border of range, while red curve (official indicator) is false info.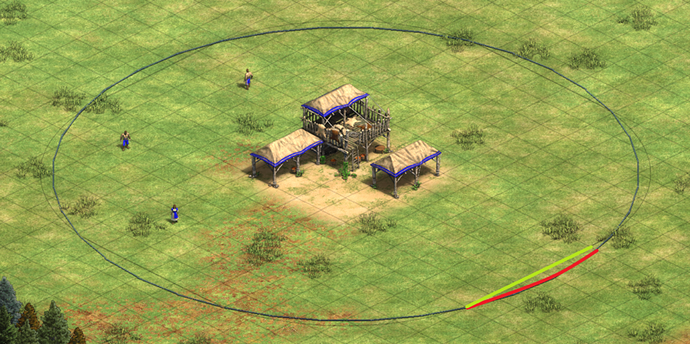 Second, the indicator is way too ugly and visually distracting. Again look at how Age of Mandala did it. And with player color turned on, my own indicator doesn't match my color (blue here), and it neglects the grid opacity setting (why?).
Third, you provide no option to turn on the indicator for TC only, resulting in a mess when there are lots of towers on the screen (as what we saw in the first screenshot). Again, this is supported by Age of Mandala.
I am so confused about the dev team. Why can't you polish a feature before release? What are you pushing for? You don't release patches for merchandise. If it's about the freeze and crash you could do a hotfix first. And what is the point of PUP if a serious constructive feedback about a core feature of a patch is blatantly overlooked?