What is promised is debt. I hope you like it.
---
I made some changes from the original proposal. Now one villager for every 10 cows, and one villager for every 15 sheep.
I made this proposal so that it is not too automatic, but it would be somewhat tedious because 7 villagers would be needed. So only 4 workers would be needed with this newly proposed change.
The pens would have to be redesigned so that the animation of milking or shearing looks good. FE has good artists and they will surely do better than what I proposed (if they do, of course). But I would love it.
For those who say that this would be something OP, I would say that this is similar to a sea strategy. It would not be an opening strategy and you will depend on cards to make it biable. For instance: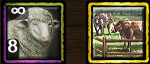 The letter of 7 infinite sheep + a corral would be reduced accordingly and the corrals would be more expensive in wood.
The 'ranching' card would make cattle cheaper and extend the limit. We could create cows by default, but the default limit would not be 20, it would be 10 and its price would not be 80 for food, it would be higher. For sheep the limit would be 20. Then this card could increase the limit of cows and sheep to +10.
The card currently enables cows in the corral, but it is better that they are accessible from the beginning with a maximum of 10 and a price higher than that of the sheep.
This way the player can use cattle later even if he does not have cattle decks. Such as someone who does fishing without having opted for an economic strategy of the sea, it would not have the same benefits as if you used the cards.