And if they could add Jesuits to more South American maps that'd be nice too.
They have been doing that already. I think the change is nice in a historical sense but gameplay wise it won't make much of a difference if Jesuits are not buffed, specially in terms of techs to African Natives level viability
Native gunpowder units are needed for Central and South America. Tupies could have powder units. Even cannons because I think they used artillery too (I'm not sure). A minor faction that grants artillery might be interesting.
Maroons would make the most sense for a powder unit in that region. Tupis may have used guns eventually, but it would have taken them a while to adopt them.
If they're ever added as a minor faction, Malay could have an artillery unit as some type of Bedil.
I re-checked the card roster for several civs and I think Swedes should be the new "benchmark" of the card designs for European civs in future updates. If you look at the number of unique cards and unique mechanics provided by cards, Swedes has much more.
They do not to be so unique as US or Asian/African/Native Americans civs because those civs are already very unique in themselves. But it is still possible to add a lot more new cards based on actual history. Look at US, they can dig out so many small events in the history of those 20 states in the game and turn them into cards. Not to mention Africans and Aztecs/Incas who already had a lot of unique cards but still received more in recent updates. Meanwhile many important historical and regional/ethnical themes are still missing for the old European civs.
For example:
Germans can pull out a lot of cards based on different electorate states (they do not necessarily need to get something as drastic as the federal state mechanics. Just cards like "XXX support" is fine enough)
French missing revolution and Napoleon. And why French has no Zouave cards? They are the first to create that unit.
British missing the industrial revolution and civil war (e.g. cards based on parliamentary or royalist parties)
etc.
That would not necessarily affect high-level competitive gameplay just like many gimmicks in the non-European civs, but it would make them more appealing.
yeah i agree that Sweden is a good point for European faction to look at in terms of uniqueness of cards, the way you for example upgrade units is completely different with Sweden compared to other European factions where it usually is just dmg/hp for 2 units. instead with Sweden its dmg for ALL melee units or caroleans now have ranged resist.
i think the germans try a little to mention some history? but obviously it is such a big and diverse group that it is hard to include things, not only in cards but also in units.
If in the future they include maritime trade routes in American maps, the most obvious maps for this would be the Caribbean and Hispaniola. The trade route of the Caribbean map goes from being a trabois to a merchant ship. On the map Hispaniola would be something new, but if this is included it would cease to be a boring map that people almost always avoided playing.
In addition there could also be treasures in the water.
---
The Amazon map could have a new version where the players start on the same side of the river and there are two maritime trade routes, the first with trading posts in the part where there are players, and the other maritime route on the other side of the river where there are no There are players and would travel in the opposite direction.
Each player will have access to 2 native villages and on the other side there will be 2 more villages and many treasures.
There could also be treasures in the river.
---
I want Koreans to be a major civ not just some minor faction in the korean map. I agree with the rest of the suggestions though.
I don't know if it meets the requirements enough, but I would love to see this unit:
korean turtle ship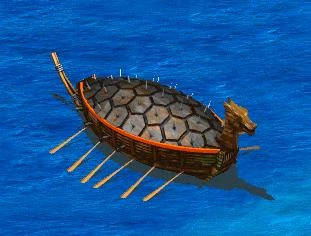 It might not be a full civilization, but it could be a consulate ally, or the age-advancing one of some new civilization in the future.
A Black Forest map originated from the Amazon Forest would be awesome.
And the Amazon River map should be updated: It sucks.
The Amazon could be subdivided into many maps, after all it is almost half of South America.
Another map that I would like to see is the Guagira peninsula. It would be a map with a style similar to the sonora desert.
---
Of course a Korean civ (considered that they already appeared in the other aoe)…
Now that Mexico is here as the "most strategically diverse civilization" I think this should be brought up again.
It's great we have all those creativities flowing into the new civs, but the problem is again old civs now look too blend (Mexico with the federal states + reversible revolutions would result in almost 2x card options than most other civs). And the old civs would not even be considered for some major updates balance-wise because many of them are actually quite effective.
I'd suggest these to be considered some time later:
Adding a few more unique cards or rework some useless cards. Do not need to be as numerous as US/Mexico. The Spanish Gold is a great example that opens up a new meta, gives Spain more flexibility, while still in consistent with the playstyle of Spain. Aztecs as a very "old" civ also get a few new cards and they are at least interesting.
For Europeans specifically, improve some unique church techs (the 92849th time) that give more interesting playstyles (not just one-time unit shipments) like the Nizam Reforms, or at least as useful as the Russian ones.
More useful and unique age-up options like the Logistician or the Mercenary Contractor. BTW the logistician for some civs are useless.
These would not significantly impact gameplay. The old metas are still there, and the updates are on some very underused aspects. Also, even for civs as versatile as the US, people soon figure out one or two optimal build orders. So giving a few more potentially viable options for other civs would not hurt in any sense.
Giving livestock more viability would also be a nice addition. It seems that Mexican cattle can be produced for free at the ranches.
All new civilizations do useful things that remain frozen for others.
In addition, the mechanics of revolutions also begins to fade with the incorporation of Mexico and the US The revolusions need a deeper redesign to remain attractive.
---
---
I do think the following should be done to help the old civs in particularly the european civs without radicaly changing them too much.
-Improve livestock viability floor, I'd suggest making cows available by default in the fortress age, with ranching only making them available earlier and raising the cattle limit; could also be applied to USA and China
-have a closer look at unique church cards/technologies not all of them are awful but some are…
-enable non-sweden to get consistent mercenaries available from taverns through shipments, Just not from regular military buildings that can remain a swedish thing.
-Make mercenaries trainable at Fortresses
-Make some of the new mercenaries available in shipments
Healers, especially surgeons:
Just saw aussie drongo's video where Mexicans can let Generals construct field hospital. This might be nice.
Investing one card for surgeons (which are not much better than priests in the first place) is not worth it. Field hospitals are quite expensive. And healings are not so useful in the first place.
A few things that can be done:
Let explorers construct hospitals (with one of the surgeon-related cards)
Ship a field hospital wagon with one of the surgeon cards, or master surgeons
And reduce the cost and increase the efficiency of field hospitals as well.
Buffs to all outlaws across the board to make them even half as viable as African Outlaws. There have been buffs to the wild west outlaws but pirates and all Asian dynasty outlaws are as useless as ever. Some could be given a partial food cost since the precedent is now set Partial food cost may help to differentiate them from mercenaries too since they may be hard to distinguish for many players.
Giving new civs some unique bonus like US outlaws being stronger is fine. At least the basic unit is more viable now.
And I always thought before that update, Asian outlaws are generally better because they are more cost effective and require much less pop.
BTW African outlaws have been nerfed as they should. Maybe they need to be nerfed a little further.
Maybe they aren't worse than the cowboys? Regardless, they're still bad. I can't remember a single time I've seen someone make any of them. Pirates need a buff for sure though, they're useless for how much pop they take up.
My impression is that in the older version, Indian ones were similar to wild west ones so they were quite bad. Comanchero (not cowboy) and Wokou rider were not very effective even against cav. Wokou ronin is a little better than pirate because it costs much less pop. But all of them were borderline useless, especially compared to African ones before the nerf.
Wild west outlaws are indeed better now but still not a viable option for civs other than US (and of course Mexico) and Lakota who can obtain them through cards.