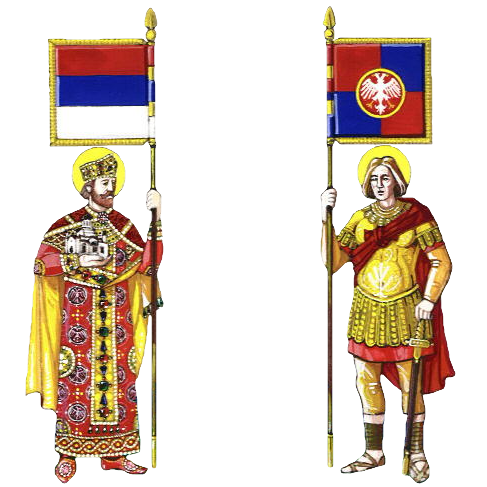 @RadiatingBlade edit: Updated photo per original poster's request.
Hi everyone! It would be pretty cool to see the Serbs in AoE2 (At least for Serb community)
I did (a lot) of research! And this is what i came up with, please tell me what do you think.
Cavalry and Infantry civilization
Start with +2 sheep
Cavalry armor upgrades free
Spearman, Pikeman +1 armor
Monks created 50% faster
Unique Unit:
Vlastela (Cavalry)
Unique Techs:
Saxon Miners (Gold miners work 20% faster)
Arming Doublet (Vlastela +2 armor)
Team bonus:
Sappers free
Units:
Archer, Elite Skirmisher, Heavy Cavalry Archer, Champion, Pikeman, Hussar, Paladin, Capped Ram, Onager, Scorpion, Siege Tower, Bombard Cannon, Fishing Ship, Transport Ship, Trade Cog, Fire Ship, Cannon Galleon, Demolition Ship, Galleon, Petard, Trebuchet, Monk.
Vlastela (Cost: 60f 50g)
Serbian unique cavalry unit, which ignores bonus damage.
Strong vs Infantry. Weak vs. Archers
Upgrades: attack, armor (Blacksmith); speed, hit points (Stable); creation speed, to Elite Vlastela 1200F, 700G (Castle); more resistant to Monks (Monsatery).
HP: 100, Attack: 12, Armor: 2, Pierce armor: 1, Range: 0, Line of Sight: 5, Speed: 1.35, Build Time: 18s, Frame Delay: 0, Attack Delay: 0s, Reload Time: 1.8s.
Upgrade time 60 seconds.
Elite Vlastela (Cost: 60f 50g)
HP: 140, Attack: 14, Armor: 2, Pierce armor: 1, Range: 0, Line of Sight: 5, Speed: 1.35, Build Time: 18s, Frame Delay: 0, Attack Delay: 0s, Reload Time: 1.8s.
Unlocked technologies:
Archery range: Thumb ring
Barracks: Supplies, Squires
Stable: Bloodlines, Husbandry
Blacksmith: Everything unlocked
Dock: Gillnets, Careening, Dry Dock, Shipwright
University: Masonry, Fortified Wall, Ballistics, Heated Shot, Murder Holes, Chemistry,
Siege Engineers, Keep, Arrowslits
Castle: Hoardings, Conscription, Spies/Treason
Monastery: Herbal Medicine, Heresy, Sanctity, Fervor, Faith, Illumination, Block Printing
Town Center: Loom, Town Patrol, Hand Cart
Mining Camp: Gold Shaft Mining, Stone Shaft Mining
Lumber Camp: Two-Man Saw
Market: Caravan, Guilds, Coinage, Banking
Mill: Horse Collar, Heavy Plow
Wonder should represent Gračanica, Visoki Dečani, Ravanica or some other Serbian monastery.
The backbone of the civilization should be strong Cavalry, Infantry and Monks.
Intresting facts:
Vlastela consisted of noble cavalry in the medieval Serbian army, armed in the Byzantine style manner.
Medieval Serbia pretty much relied on coastal fortresses for defense, because of that navy is modest.
The Saxons were known as excellent miners, and Serbian rulers hired them to work in most of the old mines in Serbia. The main source of wealth of medieval Serbia was gold. Within the Siege of Constantinople, the Ottomans tried to undermine the foundations of the ramparts by tunneling and thus make it easier for themselves to break into the city. The main role in that was played by the miners from Novo Brdo, who were sent by the Serbian despot Djuradj Brankovic as part of his vassal obligations, thus the Sappers team bonus.