—CANHONS–
Add the Russian consulate or add factory to the Indians to have decent cannon access, cannon elephants are expensive and inefficients against infatery masses.
—TRAIN TIME----
Add access to Dutch church at the consulate to access Infantry Training time, India in Treaty Unplayed because its infantry trains very slow, even with the fast training card 40% and very little against Europeans who train faster. another solution and to add the training card of 40 to 60% and move it to industrial age,1 Sepoy trains in 35 seconds without 40% card, with card trains in 20 seconds this and an eternity in a Treaty game, a musk trains in 30 seconds without the training card and updating of the Church, with updates count 65% faster the musketeer trains in 10 seconds this causes a huge disadvantage for India in Treaty
–WOOD–
a card that add infinite grove at age 4 to have infinite access to wood since the infinity chart of 1300 wood are '' inutil 'or simply add a factory since all civilians have access excerpt the native civilizations. To have all the vills need to have 9900 wood not to mention all the updates of economy and military.
–REMOVE PORTUGUESE IN CONSULATE AND ADD DUCTH OR RUSSIA–
The Portuguese and useless consulate for India since they already have a card discount of wood in AGE 2, (although the Portuguese had a historical participation in India)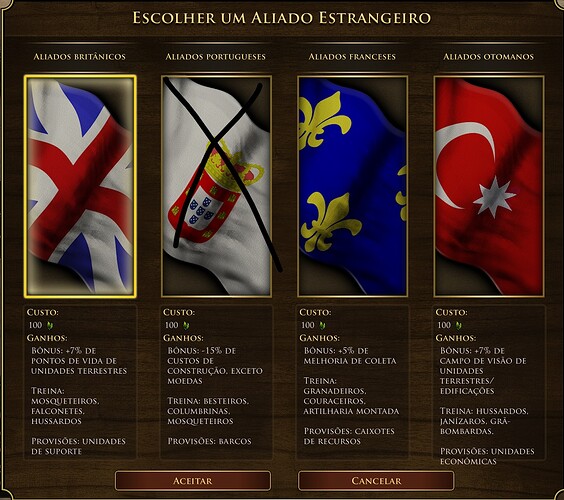 —Most problems can be solved with the addition of a factory and a church at the consulate.
–Maybe there are errors of spelling I apologize because English is not my primary language, I really hope some developer see this my post