Before any more new content, I kindly request the devs to take a look on how incomplete the main menu is. It is very laggy until now. It has been a major topic since then but I would like to reiterate on how important it is to have a quality experience navigating on the variety of content the game offers.
Quick Play has to offer something different to Ranked mode meanwhile Battle Royale mode has to go, nobody plays that mode. Searching for games in the Lobby need QoL improvements as well. Clan System is currently useless. Leaderboards is slow to load.
The thread below has been forgotten for almost a while now;
Meanwhile there's another major problem regarding the Mod manager. This feature has never been updated since the launch of the game. The Mod manager is currently filled with tons of krakenmeister civ mods and other low quality mods. These low quality mods make it hard for players searching for useable mods especially in the graphics category.
When you reinstall the game, you can't unsubscribe to the mods since it needs to redownload the mods first. This is a huge burden on players subscribed to over 100 mods, I'm referring to players who love custom campaigns and custom UI including myself. It takes hours even at high speed internet to redownload the mods. I also hope for a better sorting and categorizing of installed mods.
There are also alot of mods that keep redownloading even after unsubscribing to those mods. One example is Tower Defense - the Canyon Monastery, I think this mod is some sort of malware. Even after removing it from the json file of mods, it keeps coming back.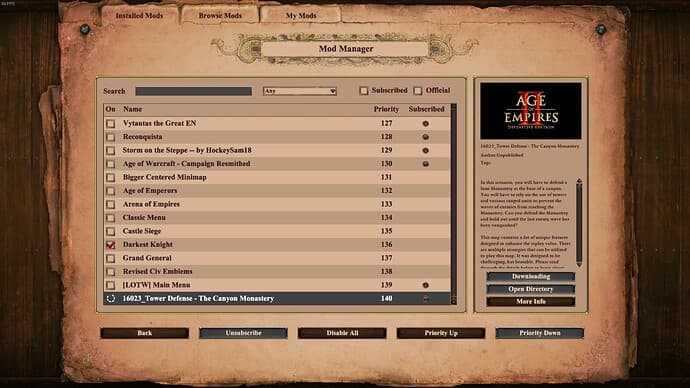 I believe and sincerely ask the devs to reconsider implementing a major update patch filled with quality of life improvements and bug fixes for both the Main menu and the Mod Manager.
How about you guys especially to people who love mods, looking forward to your experiences and feedback.