GAME INFORMATION
These details are CRITICAL; DO NOT skip them or your issue may not be reviewed.
GAME BUILD

#:

101.101.44834.0 6148570
GAME PLATFORM: Steam
OPERATING SYSTEM: Windows 10
ISSUE EXPERIENCED
If you have a villager who is luring / running away from a Wild Boar, and if you accidentally change his profession to something else (by right clicking a tree or sheep), the villager will stop and fight the boar to the death if the boar hits him. This is a longstanding bug all the way from the CD version of the game.
I had this issue just briefly mentioned in my list of unfixed bugs (without a real report), and an official developer asked if this was still happening.

So I decided to make a real bug report for this, as well as upload a recorded game of it happening.
FREQUENCY OF ISSUE
100% of the time / matches I play (ALWAYS)
REPRODUCTION STEPS
Here's the steps to reproduce the issue:
Hit a Wild Boar once with a villager
Once boar starts chasing, start moving away with the villager
Right click a random tree / goldmine / sheep with your villager
If the boar hits him once, the villager will stop and fight the boar until the villager dies
EXPECTED RESULT
Villager should keep running, because why would he fight back vs a Wild Boar, which he never has a chance of beating anyways. (and also a Wild Boar is never gonna attack a villager unless it is a Boar-luring situation, so why bother having the "defense" mechanism?)
IMAGE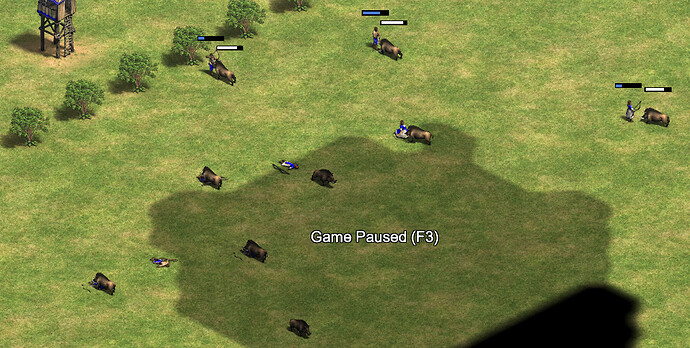 GAME FILES (SAVE / RECORDING)
Here is a recorded games where i have a bunch of villagers lined up next to a bunch of boars. I tell each villager to hit a boar once, then I right click the villagers to a tree on the other side. The villagers fight back the boar instantly, and all die
vill fights back.aoe2record (393.5 KB)