This got mentioned on multiple platforms already, but not in this section:
This seems to be a rather amusing oversight, and I am not sure if I want it to be removed entirely.
But since it can lead to completely broken matchups, I have to mention this.
Thanks to @MiniMue for randomly joining my lobby and testing this with me by giving up immediately!

To replicate do the following:
Start the game with any player as teammate or enemy
Let the allied/enemy player give up.
Garrison your units in their buildings (TC for example) granting you control over that building.
???
Profit
You can now produce out of the captured building, in my example I played the HRE and took over an english TC. The villagers are counted as different units, since depending on which I select I can build their respective landmarks and buildings. See my screenshot below: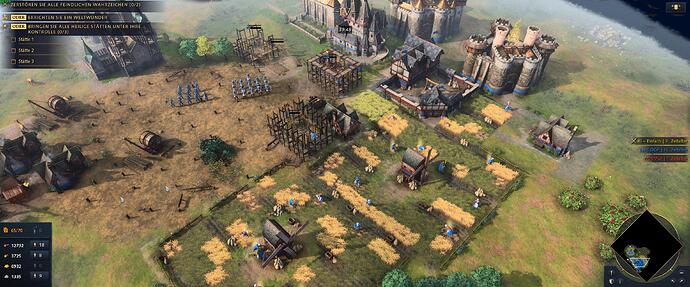 I was able to build the council hall to spam longbows, the Regnitz cathedral to generate more gold out of relics and the elzbach palace.
I took my HRE villagers and prelates and let them work on english improved farms. I could produce HRE MAA and boost them further with the english unique tech for them. I have the network of castles active while making buildings sturdier.
As you can see, it can make a match utterly broken, since techs and bonuses merge and mix. I would like it to be possible if an ally suddenly leaves without techs merging, but currently in a team game this can also lead to multiple enemies focusing down one player to gain control over their unique techs. A 2v2 tournament in the future could lead to crazy matches this way.