January 2023



To the Managers and Developers of Age of Mythology, current or future:



The announcement of AoM Definitive Edition has generated much discussion in the community and revived interest in old fans.
On one hand, the prospect of new features was the talk of the town, whereas balancing was the concern of others.
When reading forum comments, it is clear that there are two sides of the community - that they are two completely separate worlds.
Although seemingly contradictory, the points raised by both sides are valid when the reasoning behind their comments are considered.
For the purpose of addressing community feedback, we need to first distinguish between the two main audiences in the AoM community.
For that reason , the author provided a general reference of AoM terms listed further below.



"Casuals" are those who chronically play:
Team games
Unranked games (any level)
Mid-to-low ranked 1v1 Supremacy games
Mods
Single-Player
Disclaimer: Although the word, "casual", may carry a negative connotation, the author did not intend to use it in any derogatory manner as it is also the term others refer to themselves as, as said in the comments: What would you like to see in Myth Retold?



To "casuals", more means better.
It is as simple as it sounds.
More content means more immersion, more resources for modders, more campaign scenarios, more Single-Player replayability, more varied team games, more city building, more music, more art.
If "casuals" want an auto-walling ability, they deserve it. After all, it is a quality of life feature, like autoqueue.
If "casuals" want an auto-build-order AI, they deserve it too. After all, it allows them to focus on superior strategy instead of mundane micro.
If "casuals" want the game on console too, they deserve it - even cross-play - the more the merrier! Like team games!
And if "casuals" want a mobile version, the consumer is always correct.
"Casuals" are right in their demand for new content; after all, the last two expansion packs have set that precedent.
And all the more power to them!
This is a general list "casuals" would also like to include in the next game:
New tech-trees ("civilizations")
Higher or unlimited population cap
Removal of settlements
Stone
Larger maps
Symmetrical maps
Multi-usage god powers


However, to 1v1 high-ranked Supremacy players, more realism is not necessarily better.
To "Casuals", balance is not in the picture (nor should it be), for they are not necessarily playing AoM competitively; they are playing the game according to their own definition of fun: casually.
Regarding balance, the author does not believe the game is perfectly balanced nor could it ever be.
However, the original creators of the game, Ensemble Studios, have calculated to make the game as it was.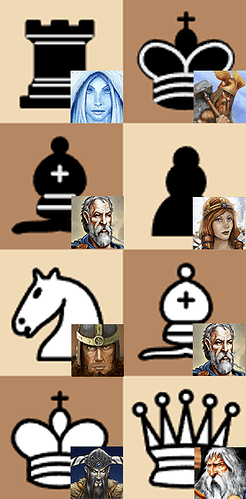 (White goes first)
What is wrong with this picture?
In a 1v1 high-ranked Supremacy match, assuming both players are of equal skill (one move per turn):
Thor loses to Heimdall , regardless of which Classical Age god he chooses to Advance under.
If the Loki player Advances under Forsetti , Thor Hersirs still lose to Loki Hersirs.
If the Thor player manages to Advance under Skadi , a wise Loki player would have already Advanced under Bragi and sat on the Thor player's second gold mine with several units to bait Frost.
But even if the Thor player is slightly more skilled (black goes first), his choices are limited against a Loki player who has a good BO and "strategy" (Semi Heroic).



So, how can we turn the game from this:

to this?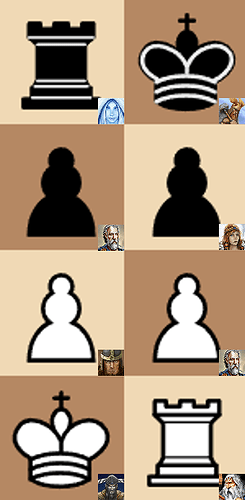 How to save competitive (1v1 high-ranked Supremacy) AoM


TABLE OF CONTENTS
Definitions

i Common definitions
ii Critical definitions

FAQ
How to save competitive AoM

1 Remove AoT

1.0 Remove everything of AoT
1.1 On feedback

2 Tweaks

2.0 Researchable God Powers
2.1 God Power tweaking
2.2 Favor tweaking
2.3 Free units tweaking
2.4 Water tweaking
2.5 Norse tweaking
2.6 Miscellaneous tweaking

3 DLC's

3.0 On new "civilizations" (tech-trees)
3.1 New "civilizations" (tech-trees) alternative
3.2 Miscellaneous ideas

Conclusion
Sources


Definitions


i Common definitions

Title definitions

AoM

: Age of Mythology

AoMEE

: Age of Mythology: Extended Edition

AoT

: Age of Mythology: The Titans Expansion Pack

EE

: Age of Mythology: Extended Edition

TotD

: Tale of the Dragon Expansion Pack

TT

: The Titans Expansion Pack

Vanilla

: Original game (Age of Mythology)

AoE2

: Age of Empires II


Miscellaneous definitions

DLC

: Downloadable Content (or Expansion Packs)

GP

: God Power

Main

: The player's original/best Major God

MU

: Myth unit

OP

: Overpowered

Redzoning

: The inability to build Walls around a particular Resource as indicated by the red shade on the Wall-icon cursor

Smurf

: Players using an alias


Economy and military definitions

AQ

: Autoqueue/Auto-queue

BO

: Build order

Boom

: To aggressively pursue economic progression

Kite

: To retreat quickly

Rush

: To attack early (without researching Hunting Dogs (original definition)).

TC

: Town Center

2TC

: The option to build more than one Town Center in the Classical Age

ii Critical definitions
APM

: Actions (keypresses, mouse clicks) per minute; often misused as "micro"


Micro

: To (verb) or how (noun) one manages their units or buildings; often misused as "APM"

Macro

: To (verb) or how (noun) one manages their economy


Meta

: The current tactics or strategies most effective at winning the game, can be separated into:

Micro-meta

("micro" as in small): The tangible meta that can be used in a game.

"Against Heimdall, it's better to Sphinx/Axe instead of Fast Heroic or 2TC…"
"3v3? You two rush blue while I (middle) Fast Heroic…"

Macro-meta

("macro" as in big): The general conclusion based from the context of the overall micro-meta.

"There is only one way to play this game…"
"Loki beats Gaia…"


Casual

: Those who chronically play

Team games
Unranked games (any level)
Mid-to-low ranked 1v1 Supremacy games
Mods
Single-Player

…


…




…



…




Read more at:
https://meta-plays.com/forums/topic/4422-an-open-letter-to-aom-managersdevelopers-on-how-to-save-competitive-aom/




Read more at the link above.