Poland-Lithuanian Kingdom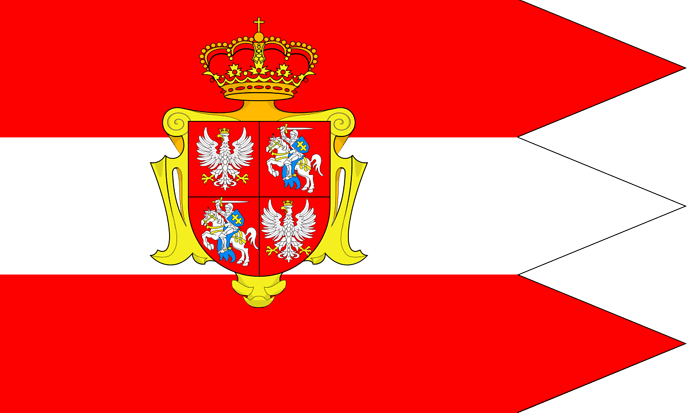 I'M FREE TO CONSTRUCTIVE CRITIC
reason: I think ,that fraction like pol-lith will be very good for game. It could fill the gap beetween central and west europe. In 1619 pol-lith had 1,000,000 km of teritorry. Pol-lith wasn't most important country in europe ,but was also very strong and important. Pol-lith was only country in history which controlled moscow and king Władysław III Jagiełło was king of 3 countries Poland, lithuania and hungary(he also could be king of czech). In XV and XVI century pol-lith was biggest exporter of crops in europe. I didn't was to make from poland and lithuania 2 others countries, from 1386 poland and lithuania had same king. Also lithuania was a big poor village before union.
what experience it could give: I wanted to make cavalry civilization which is more concentrated on defense ,than offense and civ which is very good on start(fast food gathering, scouts
Hard level: 2/3
Polish Campaign: 966(baptism of poland)-1644(buildtime of column of sigmund-pol-lith wornder)
Main slogans: Farm, Cavalry, Colectivism
Campaign: Gold age: Battle of grunwald 1410-1627 Naval battle in Oliva
Civilization bonuses:
Meele Infantry deals +10% damage
Scouts have +10% more hp and deals +25% more damage
Poland get +100 wood on start
When nearby unit die other units gain +15% attack speed on 0.5s (it's cumulating)
When any economical building/house is burned villagers work 20% faster on 5s
Destroyed buildings are rebuilded 75% faster
Villagers gain food and wood 10% faster
Boats are 20% cheaper
Civilization cons:
Siege workshop is unclocked in IV era
Crossbowman is unlocked in IV era
University are 10% more expensive and are builded 50% longer
Town centers are 20% more expensive
Pol-lith get -50 gold on start(150 gold on start)
Unique buildings:
Folwark: Replace mill
Cost 125 wood
Buildtime 30s
Hp 1200
Have 4 range sight
Villagers can drop out food at this building
Gives 5 houses
Can split arrows
Villagers are 10% faster in sight of folwark
Have special ability to work like "piggy bank" when villagers drop 10 food folwark generate additional 1
If you have 100 food in "bank" when villager drop 10 food you will get 1.5 food to bank
Maximum amount is 800
Spruce of oak
Cost 15 wood 10 gold
Buildtime 3s
After 10 minutes can grow to 120 wood tree
Colum of sigmund(wonder)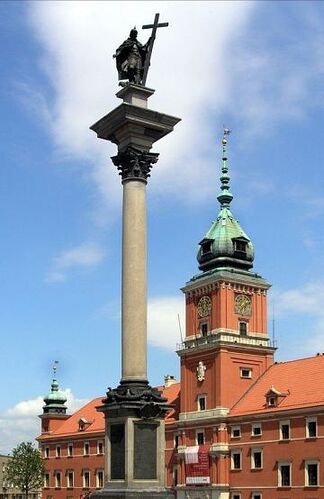 Unique units:
Piastical warrior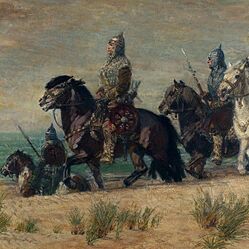 Light meele cavalry
Replace horseman
Unlocked in II era
Cost: 100 food 40 wood
Buildtime: 22s
Hp: 135/175/215
Dmg: 9/11/13 1.62s Torch 13/16/20 2.00s
Speed: 1.88
Armour: Meele 1/2/2 Ranged 1/2/2
Special ability: Can use shield(like spearmen and man at arms)
+High speed
+Shield
-Countered by spearmen
(idea of nikkythegreat)
Obrona potoczna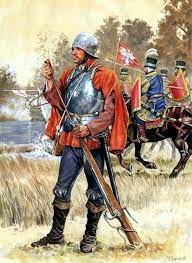 Heavy meele infantry
Unlocked in IV era
Cost: 75 food 45 gold
Buildtime:22s
Hp: 175/200
Dmg: 12/14 1.5s
Speed: 1.12
Armour: Meele 4/5 Ranged 4/5
Units that got attacked by Obrona Potoczna attack 25% slower(it's cumulating)
+High hp
+Slowing enemies
+Has long sight
-Low movement speed
Husar

Heavy meele cavalry
Replace knight
Unlocked in IV era
Cost: 250 Food 150 Gold
Buildtime: 50s
Hp:320
Dmg: Sword 35 2.25s Lance 45 0.4s Pistol(can shoot while moving) 15 6s Torch 30 2.00s
Speed: 1.63
Armour: Meele 3 Ranged 3
Range: Pistol 4 Sword 1.75
+Strong charge
+High dmg
+High hp
+Pistol
-High cost
-Low attack speed
Lisowczyk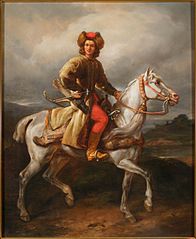 Light meele cavalry
Unlocked in IV era
Cost: 120 food 20 gold 30 wood
Buildtime: 15s
Hp:160
Dmg: 35 1.38s torch 35 2.00s
Speed:1.88
Armour: Ranged 4
+High speed
+High dmg
-Low hp
Landmarks:
Dark---->Feudal era
Wieliczka mine
Hp:5000
Radius:8
Get gold and stone from nearby vienes(without using quanity of them) 1 viene = 30/60/75(depends on era) gold/stone on 1 minute
Florian gate
Hp:5000
Radius:5
All units get +1 dmg
Feudal---->Castle
Malbork castle
Hp:7500
Radius:8
Acts like a keep ,but have 1.5 more hpand split 2 times more arrows
Wawel Castle
Hp:5000
Generate group of Spearmen(4)/Archers(4)/Man at arms(2) once on 2 minutes
Castle---->Imperial
Sukiennice
Hp:5000
Acts like market but can trade all resources by 100/110(on con to poland)
Jasna Góra
Hp:5000
Acts like monastery ,but produce monks 50% faster and 50% cheaper, this monks heal 2 times more hp. When relict is on jasna góra it acts like keep with maximal upgrades.
Unique techs:
Nobility privileges
Cost:150 gold
Research: 5m
III era
Town center
All technologies are researched 20% cheaper and 10% faster
Field split
Cost: 250 gold
Research: 2.30m
II era
Folwark
On every minute folwark gets 2 food from nearby farms
Cheap farming
Cost: 100 gold
Research: 1.20m
I era
Folwark
Farms are 30% cheaper
Manevring
Cost: 150 gold
Research: 2.30m
IV era
Stable
Lisowczyk's can manevr beetwen troops which are very close
Husar pistol
Cost: 80 gold 50 wood
Research: 1.20m
IV era
Stable
When husar shoot troop get 1.5 block(on moving and attacking)
Husar inspiration
Cost:100 gold
Research: 1.20m
IV era
Stable
Near troops(3 tiles) get 1 ranged armour
It's all, write your ideas. I'm open. Do you want to send you more my/others ,but upgraded ideas. Write everything bellow. Thanks for reading it to end