Maybe one of the most anticipated civilization for the game, that one that saw the middle ages begin and end, the legacy of ancient Rome, the Byzantine Empire. The eastern roman empire is an unique contender for a future DLC, so lets have some fun speculating about it: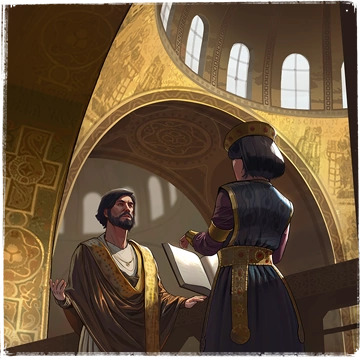 CHARACTERISTICS
After the fall of western empire, the future called byzantine becomes the last remaining of ancient knowledge and developed formal institutions. They still kept a diner and over time this changed along with the administrative structure of the empire, each dynasty carried out reforms to the provinces, each with advantages and disadvantages. Constantinople was a huge and enduring metropolis, because of this, that have a lot of landmark options. Also, the cities are particularly good to live in this time, with aqueducts, public baths, firefighters' teams, and police corps.
Militarily speaking they make some improvements in the roman legions. Infantry becomes a combination of the Greek hoplite and the roman legionary called "Skutatos", a phalanx fighter soldier. After some wars with the Persians adopt the Cataphract heavy cavalry units. After a civil war in which the empire was defeated by the Varangian Rus, they adopted this heavy infantry to form the Veregan Guard to replace the old Palatine and Praetorian Guards. Perhaps the most important and exclusive thing is that its alchemists created a flammable mixture in the air called Greek fire, a compound that continued to burn on water and was used both in large siphons installed on ships or as a portable flame thrower in the hands of some specialized units.
CIVILIZATION BONUSES
Garrisoned relics increase the production speed of nearby buildings in 10%.
Spearmen, Horseman and Man-At-Arms 10% cheaper.
Stone walls cost -30%.
Trebuchets +1 range.
Age advancement 15% cheaper.
Senate Mechanic.
UNIQUE BUILDINGS
-Hospital: Building with an aura that heals nearby units and if they are garrisoned they heal even faster
UNIQUE UNITS
Cataphract: Replaces the knight, strong armored cavalry against infantry. Throw a dart every 10 seconds.
Skutatos: Replaces the spearmen and have a phalanx formation that reduces their speed, but makes them more resistant.
Varegian Guard (or "Tagma Varángōn"): Heavy infantry, It has a hand ax and shield mode in which it is more resistant and another where you put the shield on your back to hit with the two-handed axe and inflict more damage.
Fire Dromon: A fast ship with short range and high damage. Weak against artillery ships.
Peltastos: Cheaper and less armored version of a javelin thrower, with bonus against ranged units.
*Notes: The siphonatores can also be a replace of hand cannoneer, why? Because the only reference of hand cannoneers in the empire was the ############## and they were Italian mercenaries. The Cataphract is an ancient unit so is accurate to be an Age II unit, but that is maybe a little broken consider the early man-at-arms are verry powerful. *
SENATE
Throughout the game it is possible to choose an administrative system, although the first decision is free, you have to spend resources each time a change is made, which also takes 1 minute.
Exarchate: Military buildings are 10% cheaper, also Cataphract and Man-At-Arms are 10% cheaper. Initial town center generates a small amount of gold.
Themata: Farms produce 20% more food and spearmen, archers and peltasts are 15% cheaper.
Duchies And Catapanates: Handgunners and Varegian Guard 10% cheaper. Traders get wood equal to 10% of the gold they carry.
Citizen Nobility: Buildings are built 15% faster and cost 10% less. The Siphonatores and Fire Dromon are 10% cheaper. Traders get stone equal to 10% of the gold they carry.
LANDMARKS
To age II
Hipodrome: Can garrison cavalry to produce gold.
Bucoleon Palace: Functions as a faster dock, but can shoot arrows.
To Age III
Saint Catalin Monastery: Acts as a temple an can garrison up to two relics, also generates 25% more gold from relics.
To Age IV
Christea Turris: Powerfull towe, all towers deals 15% more damage.
Sacrum Palatium: Acts as a fortress and town center, can train Varegian guard and Cataphract faster.
Wonder: Sophia Cathedral.
UNITS
Barraks
Skutatos: Age I.
Man-at-arms: Age III.
Varegan Guard: Age III.
Archery Range
Archer: Age II.
Peltastos: Age II.
Crossbowmen: Age III.
Hand cannoneer: Age IV.
Stable
Horseman: Age II.
Cataphract: Age III.
Siege Workshop
Springald: Age III.
Mangonel: Age III.
Trebuchet: Age III.
Bombard: Age IV.
Siphonatores: Age III.
Dock
UNIQUE TECH
Stratiotas: Infantry +1 melee armor.
Watch Firefighters: Infantry can repair buildings until they stop burning.
Iconoclasty: Temples work 40% faster.
Water Mills: Farms work 20% faster.
Cupule: Buildings +15% hit points.
Spur: Galley obtains a charge ability with cooldown, gives the possibility to make a melee attack, effective against light ships.
Tear Shield: Skutatos, man-at-arms and Catphract +1 of piercing armor.
Excubitors: Varegan guard +15% hit points.
Great Aqueducts: Town centers +10 of population support.
Greek Fire Bombs: Springalds gains area of effect, springald ship +5 damage.
ARCHITECTURE
A beautiful combination of classical era and oriental esthetics and techniques, Greek cross central plan design for great churches, development and extensive use of the dome-shaped dome to crown important buildings, houses and palaces with tiled roofs, majestic pillars and capitals abound in the most beautiful buildings.
The stone materials with which they built exhibited colors from gold to reddish, passing through white and gray that contrasted with the pigments that could cover them, especially where there were paintings such as inside temples and palaces.