My friend GE-Erika and I co-produced the MOD: "Ming Empire" and "Ta Tsing Empire". We haven't gotten any questions about whether the materials can be used, so no one is authorized to use the textures in this MOD.
The MOD "UNIQUE HISTORICAL ARMY SKINS - (Far East) THE FAR EAST! S.XVII-XIX - MULTIPLAYER" By DeathAndHell485 has stolen the materials of US without permission. We expressed their helplessness and indignation.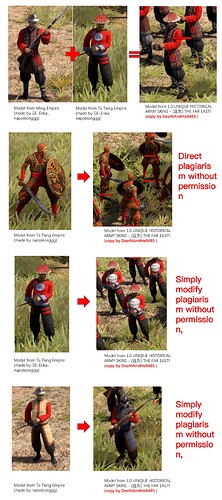 Also, the Mongolian prince of the Qing Dynasty is not called "僧格仁钦"!
In addition, this is not the first time this person has stolen. The MOD that my friend GwentMaster2163 collaborated with GE-Erika has been plagiarized by them before.:
https://forums.ageofempires.com/t/facts-about-mod-5-6-unique-historical-army-skins-s-xvii-xix-multiplayer-compatible-stealing-my-mod-resources/218851
We feel very sad about this. Those things were made by us one by one with PS day and night, which condensed our labor and love for games. As a modder, we can even accept that players feel that our MOD is not good enough, but this behavior of obliterating our labor by plagiarism is very shameful. Out of love for the game and a sense of responsibility to MOD subscribers, we try our best to find ways to create more reasonable and better content. Such plagiarism is not only very disrespectful, but also extremely dampens our enthusiasm!
Everyone, you need to know that a simple "skin" MOD, if even the "skin" is stolen, there will be nothing left!
Therefore, I hope to get an apology! and remove content made by us. Also for GwentMaster2163, please DeathAndHell485 remove all resources stolen from his MOD: Units Historical Appearance(Support Multiplayer)!