I will go over some of the fundamental problems in Ottoman civ design. While I understand gameplay is the priority and not the historicity, you will give me right. I named the title after the most urgent and infuriating problem.
1- Relic Entertainment should constantly be poked until they introduce a formidable horse archer unit into Ottoman Empire. This is u-n-a-c-c-e-p-t-a-b-l-e !!!
I mean I just cannot emphasise enough how significant archery was in Ottoman culture. In 1794, in a field outside London, the Turkish ambassador's secretary used a Turkish bow and arrow to shoot 415 yards, partially against the wind, and 482 yards with the wind. He said on a plain near Istanbul pillars were located that commemorate distances of 800 yards achieved with Turkish bows and arrows in old times.
Greatest entertainment of the sultans was hunting.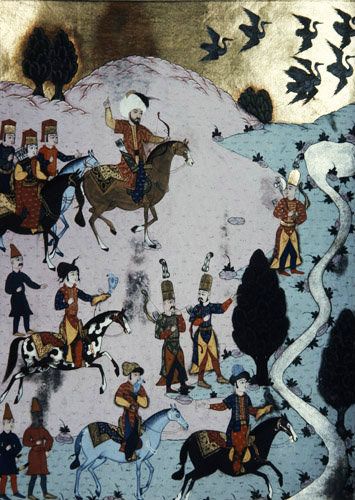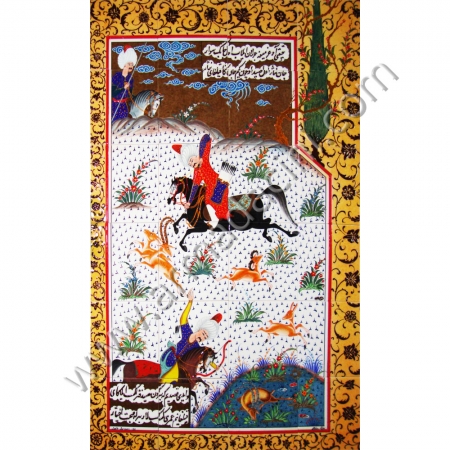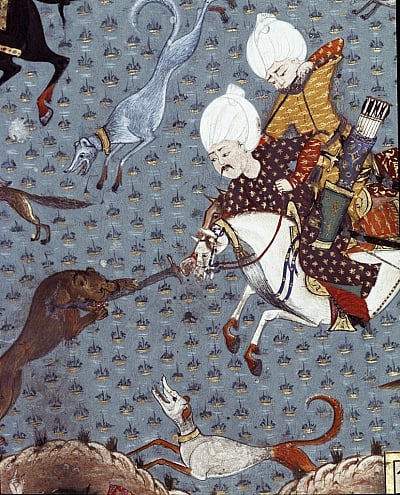 There were many archery training games such as ''kabak'', Sultan Murat 2 playing the traditional ''kabak'' game:
Especially for a game that claims to cover Ottomans until Mehmet II period (roughly around the end of 15th century) ! Sipahis were horse archers, akincis were horse archers, sultans themselves were horse archers ! If not for the Mongols horse archery would be the most associated martial art with Ottomans among the civilizations we have !
The skill of horse archery basically was considered how talented in war the person was. It was the most valued martial art.This is why in the famous Mehmet 2 the Conqueror portrait while smelling a rose wears a thumb ring. Smelling a rose symbolises how gentle of a soul he has while thumb ring symbolises how warrior he was.
Thumb ring in Asian archery enables the archer to make rapid shots.
From Battle of 2nd Kosova:

From Crusade of Nicopolis:

This is from 1526, battle of Mohacs. Notice how all the cavalry have arrow quivers:

An akinji taking out a Hungarian knight in also battle of Mohacs:

Source says this miniature is from a battle in 1551:

Sipahi depiction from Siege of Vienna:

Sipahi depiction from Manesson Mallet, a French painter:

Keep in mind sipahis and akinjis were the overwhelming majority of the army. There were only 6.000 janissaries by the year 1453. Only 13.000 in 1528.
2- Sipahi armor varied from province to province but what is depicted in the game as sipahi is Deli cavalry. Only they wore wings and used leopard/bear/lion pelt as horse harness. However unlike the game they never wore chichek helmet. They wore pelts as headgear.
3- The generic archer of Ottoman civilization in the game is depicted after solaks. It is obvious due to the iconic conic headgear. Solaks were 4 distinct regiments of janissary corps( 60th, 61st, 62nd and 63rd regiments). Their numbers varied between 200 to 400 in the entire Ottoman history. They were exclusively chosen among left handed janissaries. Solak literally means left handed in Turkish. They were a very marginal group in the army to depict the archer class of the Ottomans. I know they look very cool though.
The majority of the archers were azap. Azap literally means bachelor. They were bachelor Turks from villages. They were the lowest tier soldiers of the army and were the most expandable. Majority of the azaps were foot archers but some also had halberds, shields etc. Later on with the instruction of rifles they also had rifle regiments similiar to janissaries.
Janissaries were also elite archers at the beginning. Later on in 15th century they were introduced rifles. If I were to design Ottoman civilization, I would give them two archer choices one being generic archer (modelled after azaps) and the other would be more costly but better janissary. At age 4 janissaries optionally instantly convert to handcannoneers with a single click. So you suddenly have a mass of handcannoneers.