The great rivers of North America were the arteries of trade linking to the resources of the interior. These regions could be represented by new maps to expand the concept of water trade routes beyond just sailing ships off the coasts of Africa. The Voyageurs were the facilitators of this trade, and the appearance of these routes should reflect that. The routes should progress as follows:
A Small Canoe with only one or two trappers/natives
A Large Dugout Canoe with many Voyageurs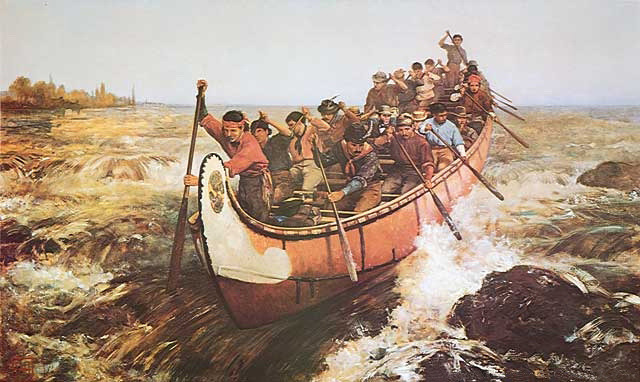 A Paddle Steamer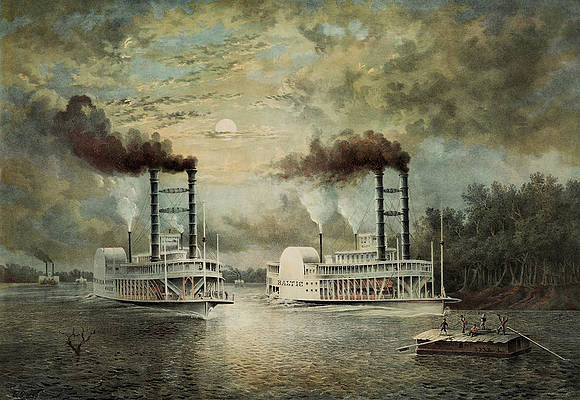 A similar style of trade route could also be implemented in other regions with different styles of the smaller riverboats/canoes.
New Maps
New maps like Laurentia, Ohio, and Oregon shown below could accommodate riverine trade routes. More potential maps like Athabasca, or Newfoundland could expand the concept even further. These maps could also expand the representation of underused natives like Huron, Cherokee, and Klamath.
Laurentia
Settlements - Huron
Description - The St. Lawrence river is the gateway to the great lakes and a bustling hub of trade. This map combines the best features of Amazonia and Orinoco with a land choke point for crossing to the opponent's side without ships, but also access to the water to bypass getting bogged down in the narrow crossing.
Ohio
Settlements - Cherokee
Description - The settlement of the Ohio river valley was originally forbidden, but the relentless expansion of American settlers into its fertile lands removed it from the dominion of the Natives and French. This map features a moderately sized river with no shallow crossings with dense woods and Cherokee settlements on the far side. Abundant sources of coal and metals can be found in the mines along the Appalachian foothills.
Oregon
Settlements - Nootka, Klamath
Description - Temperate rainforests cover the coastal ranges of the Pacific Northwest. Salmon runs fill the rivers with plenty of food. A rocky coastline makes control of the sea necessary for trade and creates water chokepoints. The main plateau is home to many native settlements, but flanking is possible through the river valley on the fringes. Players could possibly start with a canoe on this map to help with water crossings and establishing trade.
Locations and Other Maps
To better fit Laurentia and fix inconsistencies, Plymouth should be shifted to actually include the area with Plymouth, and also have Cherokee settlements. New England should then be renamed to Acadia, and Cherokee settlements removed from that map.
Athabasca and Newfoundland could accommodate even more riverine trade routes.
Ungava, Keewatin, and Northwest Passage:
Mosquito Coast:
Antilles: